An Eldridge arms manufacturer won business worth more than $17 million after CIRAS helped the company wade deeper into government contracting.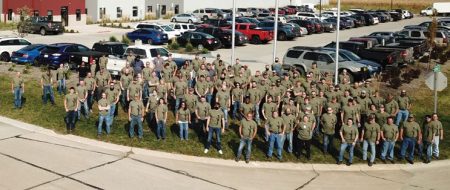 Lewis Machine and Tool Company, which does business as LMT Defense, for decades has been a major manufacturer of firearms for military and law enforcement customers, many of them overseas. The company had performed a variety of U.S. government work since it was founded in 1980, but LMT leaders last year set a new goal to vastly increase the percentage of company sales inside American borders.
Benjamin McKibbin, head of OEM sales for the company, said LMT Defense contacted the CIRAS Procurement Technical Assistance Center (PTAC) in late 2019 for help shifting from a government subcontractor to more of a prime contractor. McKibbin attended a variety of webinars and worked closely with CIRAS government contracting specialist Melissa Burant.
"Melissa really helped us a lot on this," McKibbin said. "We would send her a rough draft of anything we were ready to submit, and she would help us go through it to present ourselves in the best possible way."
In September, the company learned it had been awarded a five-year, $17 million contract to make grenade launchers for the U.S. government.
"She was a big help," McKibbin said of Burant. "I honestly don't believe we would have landed this contract without her guidance on this."
For her part, Burant praised the company's willingness to embrace CIRAS as a resource.
"They've been a great partner in the process," she said. "PTAC staff love it when you ask us questions, because that's how we can help guide you to that success."
For more information, contact Melissa Burant at mmburant@iastate.edu or 563-726-9958.