A Bettendorf machine shop landed government contracts worth more than $100,000 after CIRAS helped a new supervisor delve deep into the intricacies of government bidding.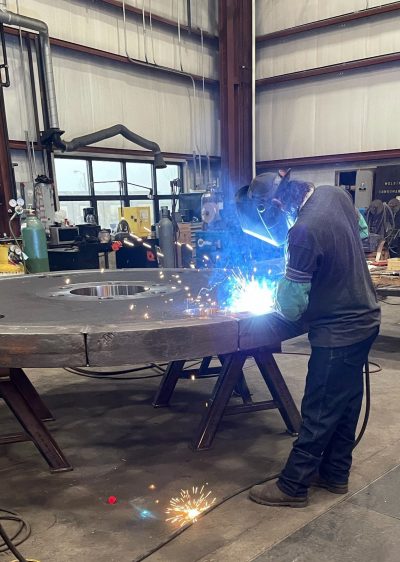 Michael Bigsby had been working at Bowe Machine Company for roughly six months when he proposed that the company pursue government contracts. Bigsby had been involved in quoting government jobs for a previous employer, but he had never played a major role in the bidding process.
So, he sought help understanding the procedures.
Melissa Burant, a government contracting specialist with the CIRAS Procurement Technical Assistance Center (PTAC), worked closely with Bigsby for several months to get Bowe registered with government agencies and certified to see sensitive information. She helped him get set up with CIRAS BidMatch, a computer system that sorts government bidding opportunities based on user-defined criteria, and continued tweaking the settings until Bigsby's daily email load was manageable.
The two kept talking over several months as Bigsby bid roughly 50 to 60 jobs without ever receiving a contract. Eventually, perseverance paid off in several jobs producing welding fixtures for military machine shops.
"It seemed like once we got our name out there and we won one, then I started getting phone calls," Bigsby said.
"He kept showing up," Burant said. "He didn't let up on the gas after our first conversation. He put it into practice, and he has continued to invest in the process."
Burant praised the company's determination, and Bowe praised Burant's quality advice.
"Melissa has been a great help," Bigsby said. "Anytime I have a question about whether I'm doing something right, I call her."
For more information, contact Melissa Burant at mmburant@iastate.edu or 563-726-9958.
A version of this article was published in the Winter 2021 edition of CIRAS News. To read more of that edition or others, please explore elsewhere on our website.