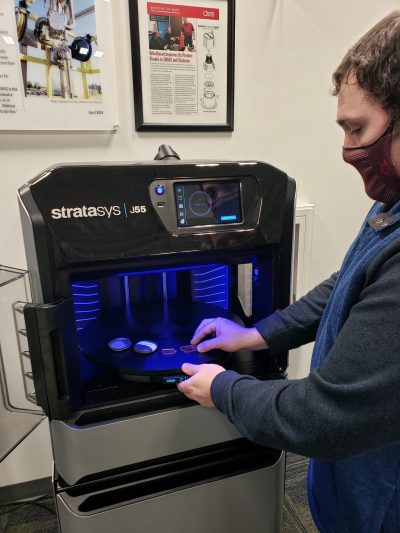 Iowa State University's Digital Manufacturing Lab is adding new tools to give Iowa companies more minimal-risk ways to experiment with new technology.
Chris Hill, director of the CIRAS Technology Assistance Program (TAP), said two new 3D printers will give the lab greater flexibility to produce detailed prototypes for Iowa companies looking to experiment with new designs, processes, and innovations. Among other things, the new machines will offer a wider variety of color options and the ability to build much more complicated structures.
"This really gives us a whole range of capabilities that we simply did not have before," Hill said.
"For example, until now we did not have systems to help companies with parts that required internal voids that you could not reach," he said. "To print parts with these types of geometries, you need supports to hold the part in place as it is being printed. If you cannot reach these supports to remove them, you need other options. Our new printers allow us to utilize supports that are water-soluble or easily removable using a jet of water after the part is finished printing.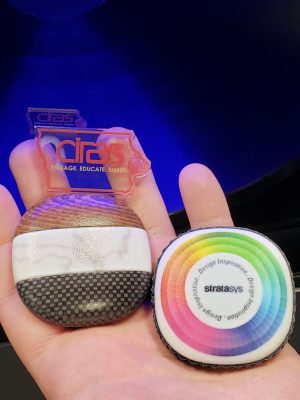 "That's only  20 percent of the excitement," Hill said.
More exciting to CIRAS engineers is a vastly expanded range of colors and textures that give manufacturers the ability to produce very realistic prototypes of a new concept very early in the design phase. This will help designers ensure that they are delivering on internal and external customer needs.
Hill said the technology could open the door for wide-spread, cost-effective customization of products.
"This is a tool to help you service niche markets at a price point that could be viable for you," he said. "These systems also will allow CIRAS to take part in the testing and development of new processes, software, and materials to ensure Iowa companies have access to the latest developments through the Digital Lab."
CIRAS and its partners launched the Digital Manufacturing Lab powered by Alliant Energy in September 2019 with a goal of providing Iowa companies access to Industry 4.0 technology so they could evaluate a technology's potential with as little risk as possible.
In addition to the new additive manufacturing technology, CIRAS also is working with companies to install MakuSafe Solution, a system that uses wearable sensors to collect data from large groups of employees. Companies hope such systems can help them strengthen their safety efforts to keep employees healthy.
Watch for a more detailed story on MakuSafe in a future edition of CIRAS News.
For more on the Digital Manufacturing Lab and its capabilities, contact Abhay Grover at agrover@iastate.edu or 515-509-1485.