Good leadership should be purposely developed in yourself and others by building strong relationships with those on your team, an Iowa-born Army colonel told more than 200 Iowa business leaders in October.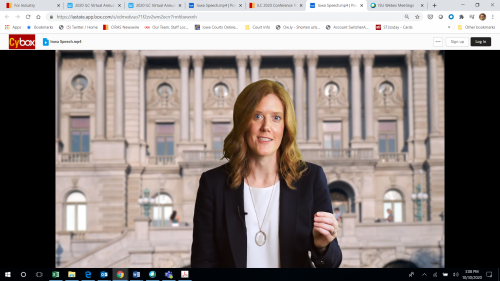 Col. Candice Frost was the keynote speaker for this fall's first-ever Annual Virtual Conference by the Iowa Lean Consortium. The event, customarily the largest single educational event put on by the ILC, was held online in 2020 for the first time due to COVID-19.
In addition to the Frost, the conference included six breakout sessions covering, among other things, how the Omaha Public Power District used Lean to create a strong problem-solving culture and a video summary of continuous improvement projects completed by Cardinal Glass.
Involving frontline workers in problem-solving sessions propelled success, said Brian Kramer, a substation manager for the power district. "We would take that quick win, and we would implement it instantly," he said. "Those quick wins were really important."
Col. Frost, originally from Muscatine, currently serves as director of foreign intelligence for the Army G-2 within U.S. Army headquarters. Speaking from Washington D.C., she called on Iowans to work at building leadership and encouraging the trait in others.
"Each of you has the opportunity to grow this skill," she said. "Leaders are made, not born. No one comes out of the womb a chief executive or a colonel in the Army… What matters is that you provide purpose, direction, and most importantly, motivation for others."
Good bosses know their people and what they're able to do, she said – meaning they know how to put each person in a position to succeed.
Frost acknowledged that some managers are required by circumstance to be "transactional" leaders, always focused on maintaining the status quo and doing what's necessary to keep their team in line. But she urged her audience, when possible, to "shift your mindset from a bureaucratic checklist to become a broader leader… Those are the bosses you forever treasure, because they saw something in you that you didn't see in yourself."
Frost urged listeners to mentor others and seek out mentors themselves – even during "adverse times."
"Find a trusted mentor during this time, and you'll truly demonstrate commitment to your craft," she said.
The ILC began offering a mentor matching service for its members at the end of 2019. ILC program director Tracy Schuster said the mentoring process recently was simplified through the ILC's own Plan, Do, Check, Act process.  Would-be mentees now can search a database and contact a potential mentor directly to inquire about the possibility of working together.
For more, contact Tracy Schuster at tschust@iastate.edu or 515-715-0164.
(For conference recordings, visit the Members Only area of www.ciras.iastate.edu/iowalean.)
A version of this article was published in the Winter 2021 edition of CIRAS News. To read more of that edition or others, please explore elsewhere on our website.