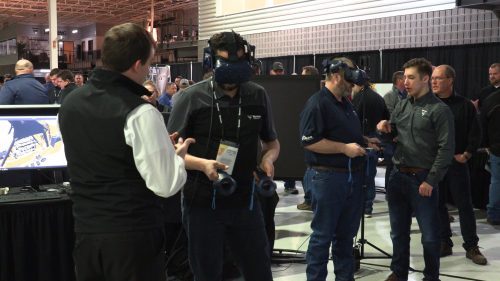 An Iowa equipment manufacturer who turned a CIRAS educational event into major experiments with virtual and augmented reality soon expects to see huge dividends in lower training costs and more attentive customers.
Vermeer Manufacturing Company, a Pella-based manufacturer of industrial and agricultural equipment, formed its own three-person augmented reality team in 2017, shortly after the company attended a CIRAS educational event on the topic.
Three years later, Vermeer has created a successful virtual reality marketing tool and soon will launch a new VR program to train dealer technicians how to service and repair Vermeer equipment.
Alan Callender, Vermeer's augmented reality project manager, said the technologies have enormous potential if used intelligently.
"We use it to tell compelling stories, and we do an ROI on everything," Callender said. "We always try to figure out the biggest impact we can make and then determine what we want to do with it."
Vermeer tests each potential use for the new technology by having its programmer and user-experience designer (a graduate of Iowa State's Industrial Design Studio) work together on a proof of concept. Once company leaders feel certain that a given use can be accomplished at a profitable cost, they develop the project to completion.
Early successes included a 360-degree video of the world's first self-propelled hay baler that now has been seen by more than 3,000 customers at trade shows around the country.
Callender said Vermeer's real-world, in-person technician training programs currently have waiting lists two or three times longer than the number of available seats. Virtual reality training will help Vermeer meet that demand quickly and efficiently around the world.
"We could do that with WebEx," Callender said, naming a popular software for online meetings. "But these technicians, their happy spot is hands-on. Sitting in front of a computer is not where they want to be."
Vermeer's experiments have included both virtual reality, in which participants don special headsets to immerse themselves in a digital environment, and augmented reality, which uses equipment to add digital information to participants' views of the physical world. (CIRAS is hosting a webinar on augmented reality on November 19.)
For training and marketing, VR seems most effective, Callender said.
"When you stick somebody in those glasses, they're completely blocked off from everything else," he said. "It's easy for them to focus on you because it's just you, them, and the equipment."
For more information, contact John Roberts at jarobert@iastate.edu or 515-294-0932.
A version of this article was published in the Fall 2020 edition of CIRAS News. To read more of that edition or others, please explore elsewhere on our website.