Like most responsible companies navigating a pandemic, Larson Manufacturing worked hard to secure its Lake Mills manufacturing facility against COVID-19. Among other things, the company posted signs, upgraded its cleaning procedures, and installed social distancing barriers. But was that enough?
To make certain, Larson this summer became one of Iowa's first companies to receive a free CIRAS virtual COVID-19 Preparedness Assessment.
"Even though we felt we were doing pretty well, we thought we'd seek out the opportunity to find out if there were any gaps we needed to fill," said Brian Throne, Iowa operations manager for the door and window company. "I think we learned a lot."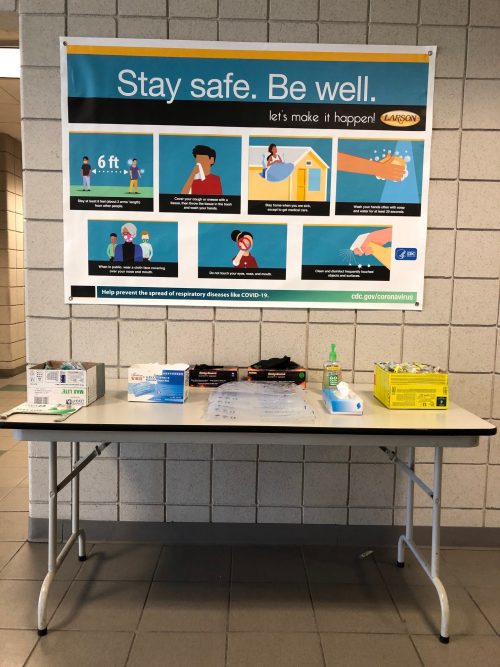 CIRAS experts spent several hours over the course of three weeks evaluating Larson Manufacturing on 65 criteria spread across 13 areas. Company officials used virtual conferencing, email, and a special CIRAS website to discuss COVID-19 policies and procedures and share photos and videos with the CIRAS team.
The result? CIRAS experts identified several areas where Larson could do things such as increase visual controls at entry ports and aid cleaning efforts by removing some nonessential items from work areas.
CIRAS project manager Marc Schneider described the changes as "minor things," such as upgrading quickly assembled social distancing markers (8.5" by 11" printouts taped to walls) to larger, more permanent signage.
"Part of our purpose was just to validate that what they were doing made sense, and they weren't missing anything," Schneider said. "The biggest thing was helping them transition to the long term."
Throne said Larson also plans to tweak some of its written policies to better spell out the procedures that are being followed.
"This was a really comprehensive review," he said. "I think we'll come away from this with a better plan for any future event."
For more about COVID-19 assessments, contact Marc Schneider at maschn@iastate.edu or 563-221-1596.
A version of this article was published in the Winter 2021 edition of CIRAS News. To read more of that edition or others, please explore elsewhere on our website.