Understanding your business doesn't mean you don't need help understanding government contracting.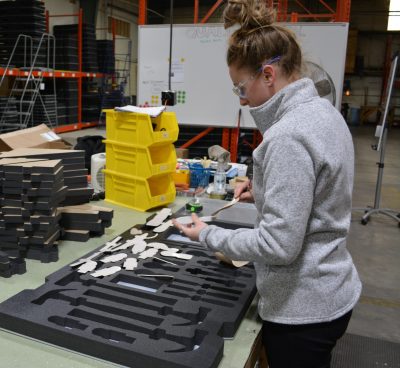 ToolKeepers is a Fairfield company that uses high-density foam to make custom inserts that organize and protect tools (or other valuable objects) used in military and industrial settings. Clark Plummer, ToolKeepers' director of strategic accounts, said the company long ago "recognized its ability to provide solutions to military and government organizations, but . . . needed help making connections with government purchasers and adapting products specifically to the needs of government organizations."
Plummer credits the CIRAS Procurement Technical Assistance Center (PTAC) with helping ToolKeepers win business from government clients by "growing our knowledge of how to engage this important market."
ToolKeepers creates 3D digital models for client approval, then uses specialized waterjet machines to precision cut high-density industrial foam.
Over the years, the company has gotten more adept at understanding government procurement, Plummer said, but ToolKeepers still contacts CIRAS regularly. Last fall, CIRAS government contracting specialist Samantha Ferm helped the company prepare for an important trade show by researching potential partners— companies with existing government contracts that ToolKeepers could approach about teaming with on future work.
Plummer summed up the relationship like this: "By partnering with CIRAS, we've helped solve some complex problems for our government customers, and we've been able to grow our business in the process."
For more information, contact Samantha Ferm at siferm@iastate.edu or 319-333-9558.
A version of this article was published in the Summer 2020 edition of CIRAS News. To read more of that edition or others, please explore elsewhere on our website.