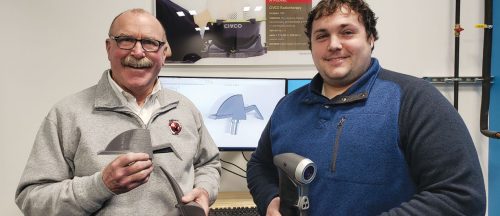 A Nevada, Iowa, maker of firefighter hand tools is growing in stature after CIRAS helped the company modernize and improve the designs for its tools.
Fred Malven, a longtime volunteer firefighter, founded Malven Fire Tool Works four years ago when he retired as an associate professor in Iowa State University's College of Design.
Malven has been modifying fire tools for decades—creating wooden models partly so that manufacturers would loan him real tools for a firefighting tactics class. Upon retirement, Malven sought to revisit some of his earlier designs and update them. The problem: there were no actual prints or 3D CAD (computer-aided design) files.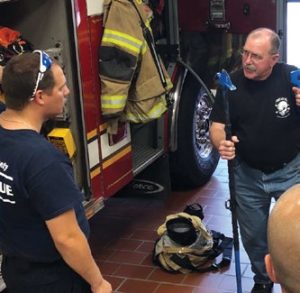 The company turned to Iowa State's Digital Manufacturing Lab powered by Alliant Energy. CIRAS project manager Jake Behrens and Chris Hill, director of the CIRAS Technology Assistance Program, used a 3D scanner to create digital CAD models of Malven's tools. Those models then were modified to make improvements such as adding sharper edges and ridges to keep a blade from getting stuck in the door it's meant to chop down. CIRAS then used 3D printers to create physical samples of the modified tools for Malven to review.
Firefighting implements—a term that encompasses both forcible entry bars and "overhaul" tools used to search for fire in walls—traditionally have been made without high-tech processes.
"The standard Halligan bar, you could buy a half dozen of them, and no two were exactly alike," Malven said. "The bars that we're producing now, they're within thousands of an inch of being the same. This has really enabled me to get an identity in the marketplace that is one of precision and uniformity."
Malven said inquiries from fire departments around the country doubled in four months after word spread of his new designs. He credits the CIRAS project with a roughly $40,000 increase in his company's sales.
Additional improvements are on the way. An ongoing CIRAS project involves using the computerized models to test different metals and thicknesses and make the tools even stronger.
"Now that he has CAD models, he can evaluate potential changes much faster and at a lower cost," Hill said. "He has the foundation to reach his goal of being an innovator in firefighting tools."
For more information, contact Jake Behrens at jbehrens@iastate.edu or 515-815-5003.
A version of this article was published in the Summer 2020 edition of CIRAS News. To read more of that edition or others, please explore elsewhere on our website.