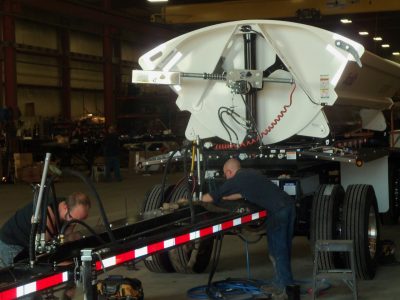 A Le Mars manufacturer of side-dumping truck trailers believes his business is on the road to steady growth after CIRAS helped improve the company's management structure and confirm that its marketing is on the correct path.
SmithCo Manufacturing Inc. was founded in 1994 to make side-dump trailers for the construction industry. Change loomed, however, as the company entered its third decade. SmithCo, long popular in construction, agriculture, and municipal waste hauling, had discovered a lucrative new market in the mining industry. But could the business handle it? Operations manager Scott Lovell saw the potential for enormous growth over the horizon, and he wanted to make sure his company was ready.
"We wanted to be more strategic in how we grow the business," Lovell said. "We wanted to be more intentional." Lovell also wanted to make sure he was ready for a possible ascension to SmithCo's top job. So, after attending a CIRAS Internet marketing event in 2018, Lovell approached the center's experts about taking a broader look at SmithCo—while at the same time providing some executive coaching.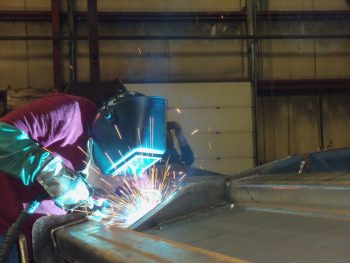 CIRAS project manager Joy Donald matched Lovell with a retired executive who began regular coaching sessions and helped lead SmithCo through a strategic plan. Meanwhile, CIRAS project manager C. J. Osborn arranged a detailed marketing study to document how trailer purchasers viewed the company, and CIRAS project manager John Roberts performed a finite element analysis on the new mining product that SmithCo wasn't able to do on its own.
Osborn said the marketing survey ultimately showed that SmithCo is on firm footing. The company has growth opportunities available and remains highly trusted by trailer purchasers in its core market.
"I would say roughly 90 percent of the time when you do these, you get twothirds of the news being good, but the rest of it is something you really need to spend a long time working on," Osborn said. "They're in excellent shape. . . . They've basically been told what matters to their customers and that they're good at those things. Now, they just need to focus their conversations with customers on those points."
Lovell, who was named president of SmithCo when the company was sold in 2019, praised CIRAS for providing the needed outside expertise to help his company take stock of itself.
"The process really forced us to look at who we are, what makes us who we are, and why we exist," Lovell said. "It's really focused us on the things that we do well, and it's exposed the things that we don't do well—maybe some gaps in our organizational structure—that would hinder us from growing."
"Finding information about our market is not easy," Lovell said. "I'm really thrilled about the time and effort CIRAS put into understanding who we are."
> For more information, contact Joy Donald at jdonald@iastate.edu or 319-359-0206. 
A version of this article was published in the Fall 2019 edition of CIRAS News. To read more of that edition or others, please explore elsewhere on our website.