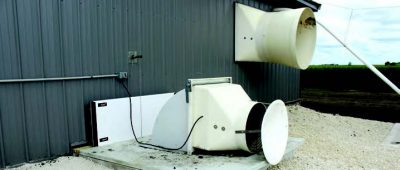 A Templeton, Iowa-based maker of farm machinery intends to launch a new product this summer after Iowa State University research—provided through the CIRAS Technology Assistance Program (TAP)—helped the company prove that its invention works.
PigEasy LLC, a 6-year-old company created by a longtime Iowa pork producer, is predicting four new employees and at least $1 million in new revenues over the next few years from BrEasy, an upcoming product designed to improve the air quality in large hog barns.
The device, which essentially serves as a baffle to help ventilation fans pull the worst gasses away from hog manure pits, was tested on four southwest Iowa hog farms in 2017. Research by Daniel Anderson, an associate professor of ag and biosystems engineering at Iowa State, showed that the modified fans reduced in-barn odor and ammonia levels by an average of 25 to 30 percent.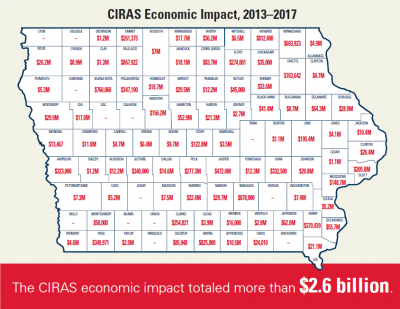 "Before the Iowa State study, it was just conjecture," said Katie Holtz, PigEasy marketing director. "Not only did that point us toward a path to get to where we wanted to go next, but it also gave us momentum."
PigEasy is still figuring out the full impact of its innovation. The company complimented Iowa State research with additional tests to explore BrEasy's impact on other aspects of farm operation, including barn heating costs and overall pig health.
"But without the Iowa State study, we wouldn't be where we are," Holtz said. "It's a really big deal."
Over the past five years, CIRAS and its partners have worked with nearly 4,000 companies like PigEasy. Combined, the projects had an economic impact of more than $2.6 billion.
For help growing your company, explore www.ciras.iastate.edu.
A version of this article was published in the Winter 2019 edition of CIRAS News. To read more of that edition or others, please explore elsewhere on our website.