Pengo Corporation had a problem.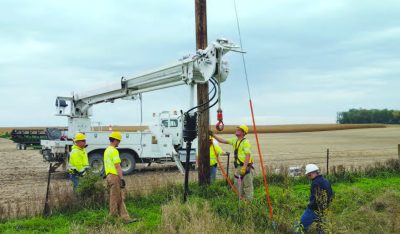 Pengo, one of the world's largest manufacturers of drilling attachments and related wear parts, went in late 2016 to test a new auger in front of a major client. And it failed.
The company turned to CIRAS materials specialists Paul Berge and Adam Bosenberg, who quickly found decarburization in the area surrounding holes created for a driveshaft pin. Further testing at Iowa State University's Center for Nondestructive Evaluation identified tiny cracks extending from the pin holes deeper into the metal.
Berge diagnosed the problem as improper heat treatment. When the process is conducted in the wrong environment, he said, "you end up with the surface of the steel losing carbon. And then it turns back into soft iron, which is a lot weaker.
Eric Matthias, director of business development/engineering for Laurens-based Pengo, later valued CIRAS' work on the project at $450,000—partly because the corrections helped Pengo land new business and avoid expensive third-party testing. "They've been huge for us," Matthias said of CIRAS. "I actually just sent two more of my engineers down there today to work with them again."
Pengo Corporation was one of 379 companies that received help from the CIRAS Technology Assistance Program (TAP) in the fiscal year that ended June 30, 2017. Clients spanned 82 of Iowa's 99 counties, and the work they were involved with—a mixture of additive manufacturing experiments, materials-related testing, and contract research projects—produced a combined economic impact of more than $164 million.
Matthias initially learned about CIRAS through a regularly scheduled tour of Iowa State laboratories. Chris Hill, CIRAS TAP director, said many companies are learning about CIRAS from those tours and from the roughly 20 educational events that TAP experts held last year around the state.
Connecting to Technology
"We're out there talking about technologies," Hill said. "Companies are listening and discussing the issues they are having. We are linking those issues to technologies that could help them. In some cases, we're providing direct services by faculty and staff. In other cases, we're referring them to other companies."
Referral might mean assisting a company in finding someone who can help them automate a particular manufacturing process, Hill said. Or it may mean connecting two Iowa firms that each have something the other might need.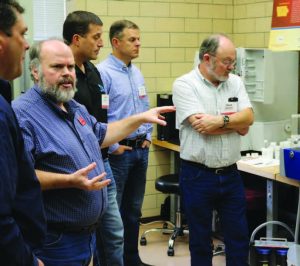 For example, CIRAS helped American Athletic discover a firm in Sully, Iowa, that since has made multiple tools for the company. That connection came as part of CIRAS work to help the company finalize a new product aimed at assisting cheerleaders in improving their balance.
By late 2016, American Athletic, a longtime manufacturer of steel sports equipment, had created a metal prototype of what would become the EliteTM Cheer Stand, said senior design engineer Senad Salkic. But the prototype was "big and bulky and didn't look all that great."
CIRAS TAP experts quickly helped Salkic design a plastic cheer stand that could be manufactured from molds made with CIRAS' metal 3D printer. The result, Salkic said, was that American Athletic got a much-improved version of its cheer stand to market before Christmas while receiving a valuable window into an important new technology.
"I'm really excited that Iowa State and CIRAS are on the forefront of this cutting-edge technology," Salkic said. "I'm thankful that we at AAI got a chance to be a part of it."
Connecting to Companies
Cresco-based Upper Iowa Tool & Die and Innovations, a company that makes tools, dies, assembly and checking fixtures, and a variety of other manufacturing equipment, also found new success by partnering with an Ottumwa firm it discovered through CIRAS.
Upper Iowa owner Scott Fortune said a CIRAS-arranged connection with Ottumwa-based Angstrom Precision Molding has helped his company regain once-lost business. Upper Iowa now works seamlessly with its Ottumwa counterpart, building tooling for parts that are then produced by Angstrom.
From the customer's standpoint, "we look like we're one business," Fortune said. "We're like a family."
From Angstrom's standpoint, the relationship is just one more benefit of absorbing CIRAS' expertise.
Jim Johnson, COO of Angstrom Precision Molding, said CIRAS has been instrumental in helping his company explore new technologies and expand its offerings.
"The first place I go to when we have a new product is CIRAS," Johnson said. "I like to get other people's opinions, and CIRAS has plenty of brains to pick."
"People need to utilize the expertise that CIRAS offers," Johnson said. "It doesn't always have to be a paid service. Maybe conversations with them will lead you to something. Or maybe it'll lead you to someone else who can solve your problem."
Connecting to the future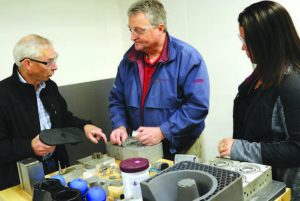 One problem for Iowa manufacturers involves the relatively low percentage of companies that can use advanced engineering tools. Bridging that gap will be a major goal for TAP in 2018, Hill said, since coming technologies will require a computerized design.
One way to prepare companies is to help them learn existing tools, such as computer-aided design, Hill said. Another option involves scanning tools to help firms create digital files for parts that currently lack a digitized design.
"Probably 50 percent of Iowa right now is unable to take advantage of technologies such as additive manufacturing," Hill said. "You're talking probably close to 50 percent that can't even get into the stadium to watch the game. If we can do things there, that opens up the market."
For those companies that do have digital designs, CIRAS will be available to help optimize parts and products so they can be 3D printed more cost effectively with the least possible amount of material. Other experiments, such as using plastic molds in a plastic-injection molding process, could open new doors for companies that make small batches of highly customized products.
"A lot of companies would like to innovate their products, but the capital requirements keep them from doing that," Hill said. "With this, they could innovate."
Stay tuned.
> For more information, contact Chris Hill at chhill@iastate.edu or 515-313-8251.
This article originally was published in the Winter 2018 edition of CIRAS News. To read more of that edition or others, please explore elsewhere on our website.