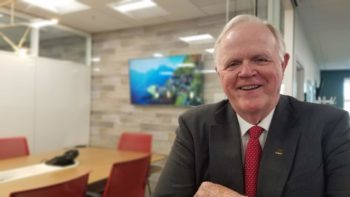 For Steve Cochren, it amounts to sustenance—and it arrives at about the same time.
"I read my BidMatch every day at lunch," said Cochren, who works in sales at Triplett Office Essentials in Urbandale. "It makes me aware of opportunities that I may not have been aware of before."
BidMatch, a software service that's available to all active clients of the CIRAS Procurement Technical Assistance Center (PTAC), scours government databases to deliver a list of government procurement opportunities tailored to what an individual client sells.
"We'll set it up specific to a client so that, if they only do business in the state of Iowa, it will only search Iowa," said PTAC program manager Jodi Essex. "If they only want state and local, it'll do that. Or, it can search nationwide all the way out to Puerto Rico and Guam. We'll set it up to the client's specific geographic region, their keywords, and their industry. Then, they get the matches relevant to them each day."
For Cochren, the service is both a way to expand his networking ability and an early warning about opportunities coming later. For example, the office furniture company sees great value in knowing who is responsible for the design and construction of future government building projects.
"These people just are not in our contact circle," he said. "That PTAC BidMatch email not only makes me aware of the opportunity, but more importantly, it makes me aware of it early."
As an example, Cochren cited a $10,000 order his company received in August from an agency that was unknown to him before one of the noontime emails.
"It's a great resource," he said. "I like it a lot."
For more information, contact Jodi Essex at jodir@iastate.edu or 515-715-0881.
A version of this article was published in the Winter 2020 edition of CIRAS News. To read more of that edition or others, please explore elsewhere on our website.