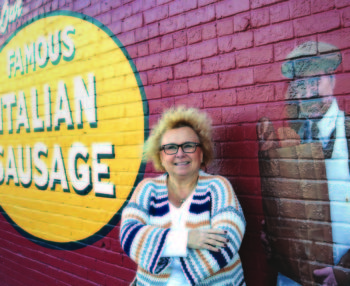 Toward the back of a long, narrow office, tucked away in a storefront that has been a south Des Moines landmark for more than 107 years, Frances Graziano sat behind a paperwork-laden desk last September and chuckled.
Was she scared? Absolutely.
"It's terrifying," said Graziano, president and CEO of the Graziano Brothers food company. "It's absolutely terrifying. Is the product going to work? Do we have everything in place? Are we going to have a handle on the quality control? Is there going to be a market for our product outside of its current geographic area?"
Early this year, for the first time since 1912, the manufacture of Graziano Brothers sausage took place somewhere outside the small brick building on South Union Street. The change, which followed roughly 18 months of planning and preparation alongside CIRAS experts, is part of a broad, multistep plan to breathe new life into a historic family business and position it for a much longer future.
"They were constraining themselves," said CIRAS account manager Brenda Martin. "Now, they can really start to explore the opportunities."
Exploration began in early 2018, when Martin and Graziano paused to chat outside a meeting of the Iowa Meat Processors Association. An inquiry about ergonomic sausage machinery quickly sparked a much broader look at the company.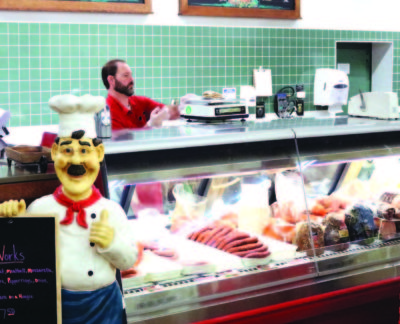 Frances, a third-generation Graziano owner, had been concerned for some time about the future. The majority of Graziano Brothers' revenue comes from wholesale sausage sales. Manufacturing space limits long had restricted any growth in production, while the retail storefront and distribution areas needed upgrades. It was not clear which problem should be tackled first.
"There were many components that we had to look at," Graziano said. "The next step was going to have to be a big one. There was no in between."
With help from CIRAS, the company started by building a specialized professional team around Frances. CIRAS project manager Joy Donald worked with the Graziano family to recruit a new board of directors for the company. Frances' relatives, while maintaining ownership, last summer ceded their board roles to a team of food industry experts—a team that Donald had helped the family identify and recruit.
When the new board, with CIRAS assistance, later laid out a new strategic plan, it received full family support.
"It's been wildly successful," Donald said. "They're thrilled with the candidates…because it was the family who made all the decisions."
"Some businesses have a lot of legacy, and they end up getting stuck," said CIRAS project manager CJ Osborn. "When a business wants to take it to the next level, it is a privilege to guide them on that journey."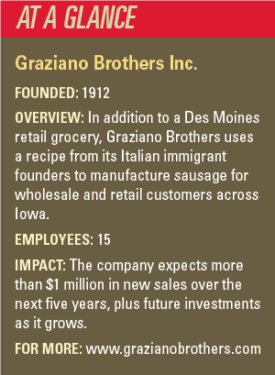 A CIRAS evaluation ultimately found that building constraints at the historic Graziano's factory would make expansion there too expensive. Osborn and CIRAS consultant Jim Poe then performed a make-versus-buy study. As a result, Graziano Brothers last fall partnered with another nearby manufacturer to have it begin making Graziano sausage using the old family recipe.
Frances Graziano says some sausage varieties will continue to be made on South Union Street. But larger capacity at the new plant means Graziano Brothers, long a popular brand in Iowa restaurants and grocery stores, now will be able to expand into new markets and other states.
And more is coming. Early this year, the company began its first-ever effort to computerize inventory and distribution. E-commerce is on the horizon. Eventually, Graziano also hopes to upgrade the South Union grocery store, perhaps by adding more food options and ready-to-eat Italian meals.
"We have the most fantastic opportunity here," she said. "We could be the Eataly of Des Moines, Iowa."
CIRAS was instrumental in every part of the transition, Graziano said, heaping praise on everyone with whom she worked.
"Not only were they great counselors, but they were able to figure out the process and the analytics behind it," she said. "We're way ahead of where we were two years ago. We wouldn't be there if I hadn't found the resources at CIRAS."
For more information, contact Brenda Martin at bkmartin@iastate.edu or 515-570-5282.
A version of this article was published in the Winter 2020 edition of CIRAS News. To read more of that edition or others, please explore elsewhere on our website.