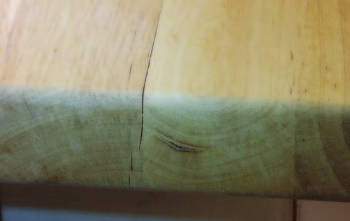 A Holstein, Iowa, maker of doors and countertops saved time and money last summer after CIRAS experts helped the company quickly identify problems with two potential products.
Aron Fleischmann, an engineer with VT Industries, said his company will avoid tens of thousands of dollars in potential warranty work because CIRAS helped pinpoint the cause of cracking discovered during inspections of shipments from a supplier.
Fleischmann took some of the cutting boards to Dave Utrata, CIRAS project manager with Iowa State University's Center for Nondestructive Evaluation, and CIRAS project manager Adam Boesenberg. CIRAS used CT scans and microscopic analysis to discover that cracks had begun in places where the wood had been improperly joined, apparently as the wood dried out while changing climates.
"The long and short of it was that it was cracking because, in this instance, they just had not glued everything together properly at the edges," Utrata said.
Fleischmann said the CIRAS lab report helped VT Industries focus the company's supplier on solving the glue problem and maintaining the company's high-quality standards.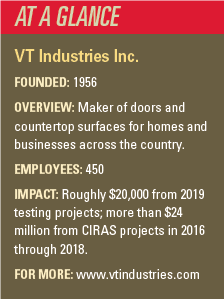 In a different project, Utrata helped VT test a new material to confirm its x-ray-shielding properties. VT Industries, which makes a lead-lined door for use in hospital x-ray rooms, had been evaluating supplier options for x-ray shielding materials.
Utrata's tests showed that the material did provide shielding but that the necessary amount of it would make the door too thick to be profitable.
"Because of Dave, we didn't unnecessarily waste resources trying to do a lot of marketing work," Fleischmann said. "His ability to give us a quick 'No' was very beneficial."
Fleischmann praised CIRAS and the valuable tools it possesses for helping Iowa companies with product development.
"When we get an issue like these, CIRAS is an immediate sounding board," he said. "Because they do this so often, they have the necessary expertise and experience that they can figure out how to approach the problem."
For more information, contact Dave Utrata at heydave@iastate.edu or 515-294-6095.
A version of this article was published in the Winter 2020 edition of CIRAS News. To read more of that edition or others, please explore elsewhere on our website.