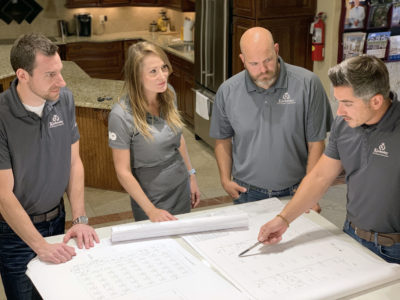 A year-old commercial and residential construction company is taking its first major steps into government contracting after CIRAS helped the company understand the intricacies of selling to the government.
Kimberley Construction was formed in September 2018 as an offshoot of Kimberley Development, a 41-year-old Ankeny home building company. Troy Sydow, project manager for the newer company, said the home developer realized last year that it had been turning away smaller upscale renovation jobs and decided to form a new division to capture that work.
Within a few months, Kimberley Construction had begun taking on commercial renovation work as well, and it was pondering the government sector. Sydow contacted CIRAS and began asking questions.
"When we initially started, we weren't really sure how to navigate the process," Sydow said. "I was leaning heavily on [CIRAS] to review all the scope of work documents and make sure that we had all our ducks in a row."
Jodi Essex, a government contracting specialist with the CIRAS Procurement Technical Assistance Center (PTAC), helped Kimberley take its long history of residential success and transfer that to a new sales channel.
"One of the main challenges is just learning the bidding process," she said. "When it's private, you can quote what you want. In government work, it's a lot more structured."
After one unsuccessful bid, Kimberley Construction's second attempt ended in a $245,000 contract to remodel flooring at a Des Moines elementary school. The company continues pursuing government projects, and Sydow believes that "2020 is going to be an extremely active year for us in the government sector."
Sydow has attended several CIRAS events and begun building relationships with government procurement officers in the area.
"Jodi has been just a huge help to us in this entire process," he said. "The biggest thing is just knowing that I have a resource to go to if I need to ask questions."
> For more information, contact Jodi Essex at jodir@iastate.edu or 515-509-0769.