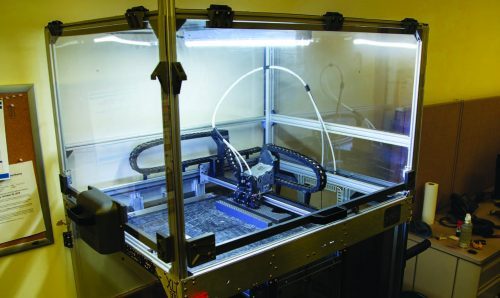 It all started with the search for a better way to check electrical connections on air conditioners.
Wes Draughn, manager of manufacturing and engineering for the cooling business unit at Lennox Manufacturing in Marshalltown, had a design for a new process to help Lennox team members be more efficient in checking the quality of their work. "We needed a way to interact with the unit at different times throughout the assembly process, and the plugs that we needed weren't available off the shelf," he said.
An intern had designed a new guide that could be used to help assemblers test connections at multiple locations on the line. The new "plug" would provide a more ergonomic grip for employees, meeting safety and other agency requirements. But there seemed to be no way to get it built.
In the fall of 2018, Lennox was only beginning to recover from the July 19, 2018, tornado that had significantly damaged the roof and walls of its plant in Marshalltown. The company's machine shop was busy on high-priority tasks, and Draughn couldn't reasonably argue for the time needed to help create this new guide.
So, he called CIRAS.
Chris Hill, director of the CIRAS Technology Assistance Program (TAP), helped the company understand the pros and cons of various 3D printing technologies, offered tips on designing for the 3D printing process, and produced demonstration parts to show the technology's potential. By spring 2019, Lennox had purchased two of its own 3D printers and was using them regularly to explore new ways to shave time and expense off its manufacturing processes.
"Whenever you design a plug or a hand tool or something like that, you take your design and either send it out or get the tool-and-die group to make it," Draughn said. "It's usually three to four weeks by the time you get everything figured out, and then it can cost you quite a bit of money. But with 3D printing, you can do the same thing in a couple of days."
Later, when Lennox considered adding another new technology to its plant, the company first sought input from CIRAS.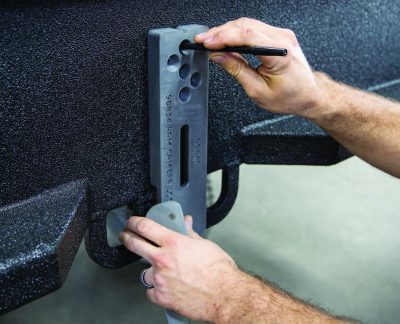 Most Iowa companies aren't yet ready to make the leap. Preliminary results from the CIRAS 2019–2020 Manufacturing Needs Assessment show that few Iowa manufacturers are taking advantage of 3D printing technology. Hill acknowledges that not all technologies make sense for every business. But he believes that many companies could benefit from the quick process improvement that 3D printing makes possible.
"With this technology, you can do things rapidly," Hill said. "You can try different iterations, and the cost can be minimal. It doesn't need to tie up your in-house machining resources, if you even have them."
"The technology allows companies to try things that they wouldn't even think to try otherwise, because of higher outside costs and lead times." Hill said. "Now, you can do it yourself faster, and soon you will start to see daily opportunities for improvement within your business."
Stellar Industries, a manufacturer of hydraulic truck equipment based in Garner, worked with CIRAS on several 3D printing projects before the company decided to invest in its own machines. That was roughly two years ago.
"Other than for basic maintenance, those machines have never been shut off," said Matt Schroeder, Stellar Industries' engineering manager. "We're always coming up with new products, manufacturing jigs, safety devices, etc. . . . Our ability to create tools has drastically improved, and we're making more tools daily."
The company estimates it's now spending 48 hours or less to make production tools that used to take three weeks or more. That time savings means planned improvements go into effect much more rapidly, and employees end up generating more ideas after the team sees how easy it is to turn possibilities into reality.
"This allows for rapid incremental change," Hill said. "You do those little things—saving a quarter here, a dime there, a nickel there—and suddenly, you've got some real money."
Stellar agrees.
"You get the printer with kind of a scope in mind of what you're going to use it for," Schroeder said. "Then, all of a sudden, you end up changing your culture. You start asking more questions and coming up with more ideas for ways it can be used."
> For more information, contact Chris Hill at chhill@iastate.edu or 515-313-8251.
A version of this article was published in the Fall 2019 edition of CIRAS News. To read more of that edition or others, please explore elsewhere on our website.