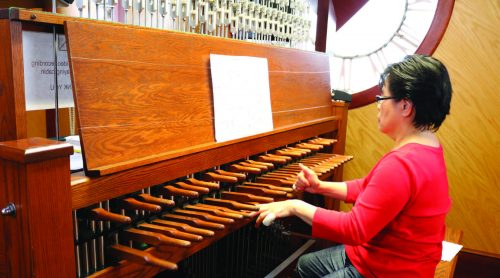 It is a bright summer day when Tin-Shi Tam climbs the steps inside Iowa State University's iconic campanile to play her daily midday concert on the Stanton Memorial Carillon.
Up above, after she's worked the carillon's bells through a mix of tunes that includes both Garth Brooks and the theme from a Hong Kong soap opera, Tam starts talking about the miniature version—a one-fifth scale model of the campanile that eventually would be unveiled to the public in October.
"I think the whole idea about this project is that not only did we involve so many Iowa State students and faculty to build it, but this is a project that we can actually own," Tam said. "It's the whole process. We've documented every process. This is something that we can share and say, 'This is how it works.'"
Tam, Iowa State's Cownie Professor of Music and its official carillonneur since 1994, worked for more than four years to bring the miniature campanile from inception to completion. The small version, which debuted at Iowa State's homecoming parade, was born after hundreds of hours of input and assistance that stretched across campus. Mechanical engineering students spent six semesters of capstone design projects perfecting the model overall, while computer and electrical engineering students spent four semesters creating the Guitar Hero-style video screen that eventually will help untrained civilians play songs on the model's 27 bells.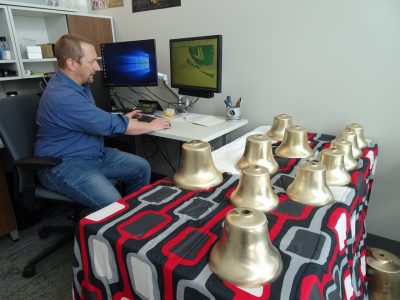 "I'm an artist at heart, so I'm not good at engineering or whatever different area," Tam said. "But it really opened my eyes to what my colleagues are doing. . . . I think this is a beautiful thing to just showcase what Iowa State stands for."
CIRAS has helped with the project by creating 3D scans of the bells both before and after an arduous tuning process. Project manager Mark Williamson said the experience has allowed CIRAS to assist the campus community while simultaneously testing a new metrology-grade handheld scanner.
The resulting 3D models of the bells will be invaluable some day if Tam or her successor ever need to know what a properly tuned bell looks like, Williamson said. "This map provides the profiles needed in the future to repair a bell, to understand why its tone is changing, or to replicate a new bell."
Plans call for the model campanile to hit the road soon, making appearances at Iowa State events around the state.
"It's not just something to see," Tam said with a smile. "You can actually experience it."
> For more information, contact Chris Hill at chhill@iastate.edu or 515-313-8251.
 A version of this article was published in the Fall 2019 edition of CIRAS News. To read more of that edition or others, please explore elsewhere on our website.