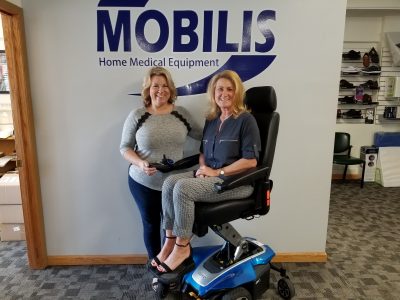 Colleen Brabec believes CIRAS has made her smarter about government contracting.
Brabec owns Mobilis Home Medical Equipment, a 17-person Council Bluffs company that sells wheelchairs, scooters, and related equipment throughout western Iowa and eastern Nebraska. Mobilis used to deliver equipment for U.S. Veterans Administration hospitals in Iowa and Nebraska, but the company lost that contract three years ago because of what Brabec describes as newly complicated procurement procedures and increased competition from new players in the market.
Brabec, who joined Mobilis in 2002, has been working closely since 2016 with Andy Alexander, a government contracting specialist with the CIRAS Procurement Technical Assistance Center. As a result, she believes she's now better equipped to make a smart bid when opportunities arise for business with the federal government.
"The unfortunate part is I didn't understand everything that was in that contract before Andy, which was a real disadvantage," Brabec said. "After working with CIRAS, I now have a much clearer understanding of who I'm dealing with in the government and what will be required in terms of time and reporting. I am much more educated now in my response to a solicitation."
Mobilis last year won the contract to operate the VA's Seating and Positioning Clinic. Brabec said the clinic currently ranks as her fourth-largest revenue source by billing.
Alexander said Mobilis seems to understand that government contracting is a long-term play. "If you put in three bids and win one, then you have to keep submitting," he said.
Brabec still meets regularly with Alexander, although she said she now uses CIRAS mostly as a backstop. In February, Brabec waited until she had nearly finalized her submission for a state of Iowa wheelchair contract before she ran the paperwork past Alexander as a double check.
"So far, I've been able to work on the contract without having to bother him," Brabec said. "I find it remarkable that I was able to work on this by myself. . . . The fact that I can navigate it on my own, I think, speaks volumes for the help Andy's given me in the past."
Two months later, Mobilis was awarded the contract.
> For more information, contact Andy Alexander at andyalex@iastate.edu or 402-547-0333.
A version of this article was published in the Summer 2019 edition of CIRAS News. To read more of that edition or others, please explore elsewhere on our website.