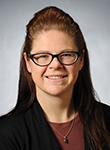 Jennifer, who graduated from Iowa State University with bachelor's degrees in accounting and early childhood education, first worked for the ISU Foundation as a student employee. After graduation and a year spent working for a private accounting firm, she returned to the ISU Foundation and worked there for 11 years there before moving to a similar finance role at the College of Engineering Dean's Office.
Jennifer comes to CIRAS after serving as the head finance employee in Iowa State's Engineering-LAS Online Learning unit.
At CIRAS, she will serve as the chief financial officer.
To contact her, email jmeseke@iastate.edu or call 515-294-5472.