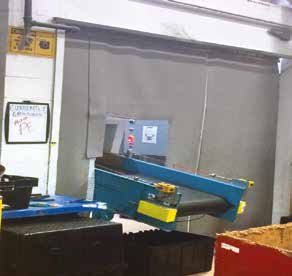 The Orbis Corporation's plastic container manufacturing plant in Monticello has a significantly quieter corner of the factory now, after a capstone project by Iowa State University engineering students reduced the noise from a nearby granulator.
Orbis Corporation, which uses plastic injection molding to make a wide variety of containers, frequently must grind up changeover material for use in certain recycled resin products of a different color. The problem, according to Orbis operations manager Doug Wortman, is that the granulator used for such tasks runs at roughly 114 decibels—91 when measured at a frequently occupied workstation 40 feet away.
A team of seven students from the Department of Agricultural and Biosystems Engineering worked over the fall 2017 and spring 2018 semesters to identify multiple options and suggest changes to the Orbis granulator area.
"They came up and did some modeling and studied the sound levels to understand the threshold values that we wanted to achieve," Wortman said. "They engineered solutions such as sound-deadening curtains and other sound-absorbing material, as well as applying spray foam on the grinder's upper chamber itself."
In the end, the students spent roughly $5,000 and got the sound level at the workstation slightly below the 80 decibels that Wortman had requested. Orbis estimates the solution saved $13,000 that otherwise would have been spent on constructing a new granulator room.
Wortman said he frequently uses capstone projects as a way to solve problems while simultaneously helping young engineers "learn a little more about what goes on in a manufacturing plant, so they can decide whether that's something they want as a career."
"We wanted to reduce the noise for our operators," Wortman said. "They made a significant difference."
> For more information, contact Carey Novak at cenovak@iastate.edu or 515-408-4257.