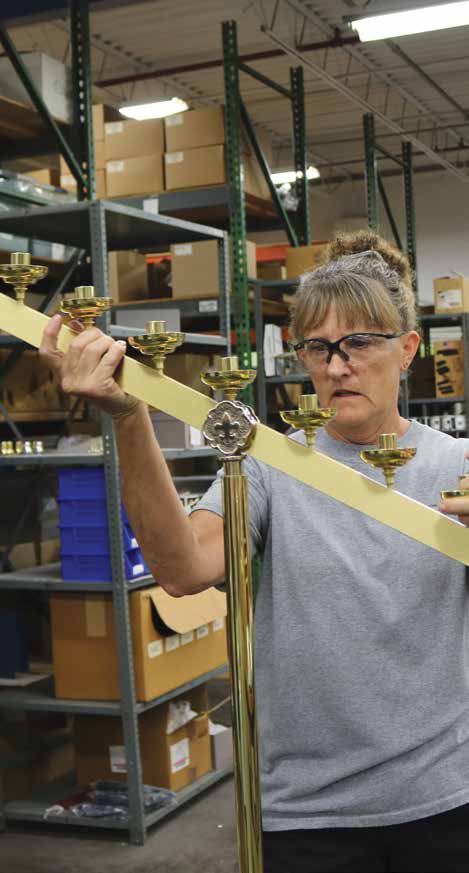 The shelves in Randy Monk's Altoona, Iowa, office are lined with the artifacts of decades past. At one corner sits a stack of the stamped metal ashtrays Artistic Manufacturing Corporation once produced as a sideline. A few feet to the right, you'll find one of the small, decorative metal pots that the company made and sold to florist shops until the 1960s. In between those historical outposts sit older versions of the crosses, cups, and communion plates that have been the bulk of Artistic's sales for more than 50 years.
Churchware has been a good business, Monk explains, but it's by no means been immune from the problems found in other industries. Low-cost foreign competitors in recent years have become an increasing threat to Artistic's market share, while online retailers have caused problems for the Christian bookstores that used to be the company's major retail outlet.
"Things have changed," Monk, Artistic Manufacturing's owner and president, said simply. "You just have to keep up with that, or you're not going to survive."
"We would not be doing what we are doing right now without the help of Iowa State," Monk added later. "For us to be doing this on our own, it would be too much."
With technical assistance from CIRAS, Artistic Manufacturing Corporation this winter is poised to announce its second new product of 2018—a patent-pending device (and companion tray) that will let church workers rapidly fill small plastic communion cups by pouring wine into one larger, funnel-like container. The new product follows a new line of compostable communion cups that Artistic unveiled earlier this year in a bid to appeal to more ecologically minded congregations.
For Monk, both changes are calculated steps designed to keep Artistic Manufacturing in front of its foreign competitors and to provide products that no one else has: "This is an excellent time to refresh the product line a little bit. We can't just keep doing the same thing."
Artistic Manufacturing's first church-related products were designed by Ellis Monk, Randy's father.
The elder Monk, who also served on the CIRAS Advisory Board from 1985 to 1988, "started out sweeping floors at the company when he was in high school," Randy said. After college and a stint in the Navy, Ellis took over Artistic and, according to a chuckling Randy, eventually purchased the company by taking out "a second mortgage on the house, the kids, and the dog."
By the 1960s, Ellis Monk also held a leadership position at Grant Park Church in Des Moines. When the church developed a need for a new altar cross, it fell to Ellis to do the shopping. He ultimately decided that Artistic could produce better work than anything that was available on the market. Then, encouraged by a friendly retailer, Ellis decided to take his newly manufactured cross to a St. Louis convention of the Christian Booksellers Association—where he promptly made enough connections to launch a new sideline for his company.
Today, according to Randy Monk, Artistic is the only American manufacturer that still produces a full line of churchware, from altar crosses and candelabras to collection plates and communion trays. The company still sells through a diminished network of Christian bookstores, as well as through catalogs and a growing-in-importance website.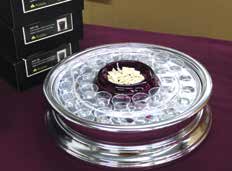 The current revival of Artistic's product line began roughly two years ago, when Monk approached CIRAS account manager Paul Dunnwald for help in determining the inner lining for a flagon. A discussion of various polymers brought CIRAS project manager Shankar Srinivasan to the company, where he noticed the disposable communion cups and suggested using polylactic acid, a corn-based plastic that is compostable.
At a minimum, Srinivasan believes the new cups will help Artistic maintain stature in the industry.
"It will get them noticed," he said. "They'll be the guys who invented the compostable cups."
Artistic started selling the new cups this past spring, with the first shipment going to a congregation in Iceland.
"I wouldn't say it's overtaken the industry," Monk said. "But slowly, the word is getting out. Certainly, curiosity has been piqued."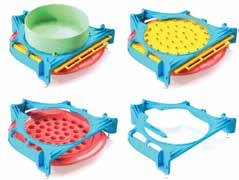 Cup conversations eventually led to another discussion about Artistic's long-standing goal of creating a device that simplified the filling of communion cups. Many decades ago, the company patented a metal apparatus that was designed to funnel wine into multiple cups simultaneously. But Artistic managers never really liked how the product worked, so the effort was abandoned.
At CIRAS' suggestion, two teams of mechanical engineering students from Iowa State University revived the idea in 2017 and worked to refine the design as part of a capstone project. The students eventually simplified the concept to create a form of self-leveling, multihole funnel.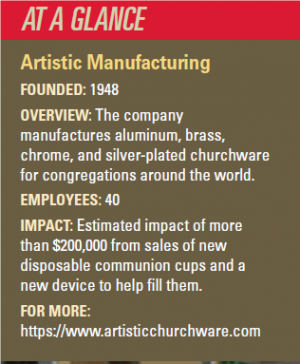 Monk believes the cup filler will prove popular with congregations in which elderly church members do most of the work preparing for communion services. Artistic Manufacturing currently sells a squeeze bottle for filling communion cups, but Monk believes the new device will help churches avoid the risk of repetitive stress injuries by filling dozens of cups at the same time.
"I think we've met the need," he said, praising the Iowa State students for "leading us to an answer that we'd been looking for 30 or 40 years."
"You can't stagnate," Monk said simply. "The earth continues to spin. We have a very mature product line. One would normally think, 'Well, what can you do with it? A cross is a cross, the collection plate is the collection plate, and communion ware serves cups. What else can you do with it?' Well, there is something else that can be done with that if you take a fresh look at the problem.
"CIRAS provides that—as well as the expertise to tell us whether or not it works."
> For more information, contact Paul Dunnwald at dunnwald@iastate.edu or 515-509-1377.