Meyer is director of engineering for Ozonics LLC, a Mason City maker of ozone-generating devices designed to eliminate the scents of hunters. The 10-year-old company now makes more thousands of such devices each year, but its market is always growing and changing. New prototypes are always required.
"One of the things I saw on the lab tour was the ability for a couple of machines there to 3D-print tooling," Meyer said. "That was my keen interest at that point in time… Basically, I saw that there were several capabilities there, and I decided it was time for me to get with CIRAS and see what they could offer me."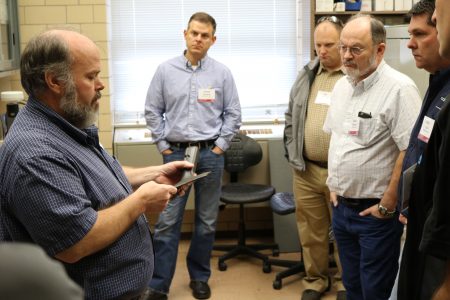 Ozonics since has worked with CIRAS on several new versions of its products – versions that were prototyped, through a CIRAS relationship, on a cutting-edge 3D printer at the University of Iowa. Meyer says the new technology has helped Ozonics remain competitive because the company is able to move rapidly through various iterations and quickly perfect its designs.
"With this technology, we get an ability to have broader choice of different methods and options," Meyer said. "In prototyping, the parts are not necessarily exactly what they're going to be in production. Some of it is fragile, and you don't really get the mechanical functionality to it. That's different from what we got with what CIRAS provided."
Ozonics is one of dozens of companies who launch new relationships with CIRAS each year after visiting the Iowa State University campus for a lab tour. "Companies generally walk away from those tours intrigued, and it usually leads to us helping somebody with at least one project," said Chris Hill, director of the CIRAS Technology Assistance Program (TAP). "Companies end up wanting to act because they see first-hand how other Iowa businesses have used technology to speed up the design cycle, evaluate design options more quickly, and get their products to market faster."
CIRAS, which has another round of lab tours scheduled for October 18, also has been working over the past year or so to expand that phenomenon by flipping the process and taking its lab tours on the road.

A November 15 event at Northeast Iowa Community College in Calmar represents the latest incarnation of a CIRAS technology roadshow. Entitled "ISU Lab Resources for Manufacturers," the half-day presentation is intended to showcase the various tools available at Iowa State for far-away manufacturers who, unlike Ozonics, may not immediately see the point of visiting the campus in Ames.
"This is Iowa, so if you build it they will come, right?" said Dave Utrata, a CIRAS program manager who works in the Center fo Nondestructive Evaluation. "That works with baseball fields, but you're not going to have someone drive three hours from a corner of the state when they're not sure what they're going to see. It makes more sense to for us to go to them."
Alison Holten, business and community solutions program manager for NICC, said manufacturers "don't know that they can utilize something from CIRAS until they see what's available. Then, you can see that lightbulb go off, and they realize, 'Hey, they can help me deal with this problem that's been bugging me for a long time.' "
"You don't know what you don't know until you find out," Holten said. "This makes people aware of available options."
For more information about the ISU Lab Resources for Manufacturers event on November 15, visit this registration link. To request a CIRAS technology road show in your area, contact Chris Hill at chhill@iastate.edu.