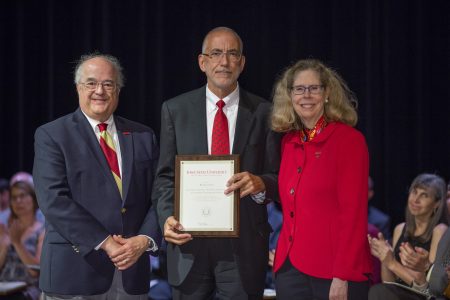 CIRAS Director Ron Cox was one 15 College of Engineering faculty and staff who received Iowa State University's highest honors during an annual awards ceremony on September 14.
Cox, who started as a CIRAS field agent in 1997 and has served as CIRAS director since 2001, received Iowa State's Award for Achievement in Economic Development in Iowa.
University rules say the award is intended "to recognize faculty and staff members for outstanding ISU-based achievements in advancing the economic development of the state of Iowa."
The award is reserved for campus employees who either started businesses that employed Iowa residents or who provided "specific documented support to Iowa companies" and thereby benefited those firms.
Cox's award came roughly one year after he and CIRAS program director Mike O'Donnell were jointly selected as "Manufacturing Champions" during an annual awards dinner put on by the Iowa Association of Business and Industry. In announcing that award, an ABI official praised Cox's "two-decade record of public service while acting as a relentless advocate for Iowa manufacturing."
Congratulations, Ron.