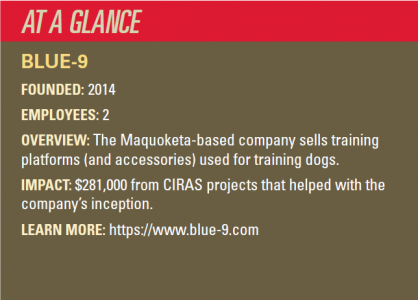 A small Maquoketa company that sells dog training equipment around the world is boosting production and expanding its product offerings—all after CIRAS helped the company arrange important testing and other steps to get it off the ground.
Blue-9 LLC is now in its third year of selling The Klimb™, a small, patented elevated platform that has become a popular tool for dog trainers around the country.
Owner David Blake says production of the training platforms has tripled since 2015. The tables are sold primarily online and at trade shows.
"The Klimb is used in about 100 PetSmart stores right now, because PetSmart has recognized the value in platform training and purchased them for its trainers," Blake said. "But they're not for sale in PetSmart. We're growing fast enough right now, to be honest."
Blue-9 uses key suppliers from Wisconsin and Illinois but assembles and ships its products—both The Klimb and the company's top-rated dog harness—from a Maquoketa building that Blue-9 purchased last fall.
CIRAS project managers Shankar Srinivasan and John Roberts helped arrange load-bearing tests for The Klimb after Blake attended a CIRAS summit for plastics manufacturers in 2014. CIRAS also helped connect Blake with financial assistance at the Iowa Economic Development Authority.
"CIRAS was an integral part of my overall beginning, period," Blake said. "You helped me obtain financing, and you helped me a lot with the research and development, as far as verification."
For more information, contact Shankar Srinivasan at srigshan@iastate.edu or 515-290-6702.
A version of this article was published in the Summer 2018 edition of CIRAS News. To read more of that edition or others, please explore elsewhere on our website.