The Technology Association of Iowa (TAI) presented its first such manufacturing award to Sukup on April 12 as part of its annual Prometheus Award presentation. Brian Walker, president of TAI, described the event as "the most prestigious recognition for Iowa's technology industry" and an opportunity to celebrate "the year's most momentous innovations."
"We don't spend enough time recognizing the innovative ways Iowa manufacturers use technology to solve challenges from their shop floor to their customers," said Mike O'Donnell, director of CIRAS' Manufacturing Extension Partnership. "If more companies understood the value that their peers down the road are seeing from technology, we might see real progress in solving the biggest issues facing Iowa manufacturers."
Sukup Manufacturing, a 600-employee firm that makes grain storage, drying, and handling equipment in Sheffield, Iowa, has more than 80 patents and has received more than 18 awards from the American Society of Agricultural and Biological Engineers for products that "significantly save time, cost and labor."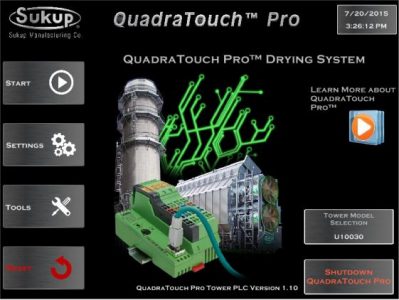 In 2009, the company began producing a QuadraTrouch system for its grain dryers that allows users to control their equipment from a smart phone, tablet or PC. A more advanced version, the QuadraTouch Pro, went into production in 2015 and is capable of supporting multiple devices simultaneously.
Prometheus Award nomination papers says the two products are part of Sukup's broad vision of continuous improvement and a "broader future vision" of offering "a fully networked, integrated equipment solution to allow farmers and producers at all levels to store and handle their crops more efficiently and accurately than ever before."
Charles Sukup, president of Sukup Manufacturing, said the company is "honored to be recognized with the inaugural Manufacturing Technology Company of the Year award. Our belief is that innovation and technology helps farmers maximize efficiency and profitability, and allow us to achieve our mission of preserving and protecting the world's grain supply."
Other finalists for the 2018 Manufacturing Technology Company of the Year included Genesis Systems Group LLC, Lean Technologies, and Wells Enterprises.
You can find more information, including a complete list of the Prometheus Award winners (in all categories), on the TAI website.