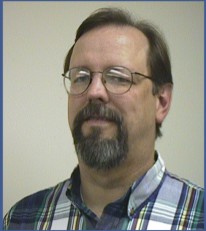 So, how long have you worked here?
It'll end up being three weeks short of 20 years. I started as a student in the spring of 1997. I graduated in December of that year, then went full-time the following July.
First, let's back up from that. What was your first job?
The standard Iowa first job – walking beans.
How long did you work in the private sector before you came to CIRAS?
I worked on shop floors for a couple different companies for maybe five or six years as an assembler and a CNC operator. Then, I was a retail store manager for 11 years before I decided to go back to school.
I ended up with a bachelor's degree in industrial engineering and a master's in systems engineering.
How did you become a training expert?
I started off at CIRAS working on what we called the product development team, which was led by Don Eichner and also included Steve Devlin. We'd work with two or three new companies that were working on the commercialization of Iowa State patents to develop. John Roberts and I did that, and we had a crew of about 10 students at the time. But that ended, and I started working with Jim Black on Lean. Then, I went to a demonstration of TWI (Training Within Industry) at a conference, and I thought, "This is awesome!"
Later, I got to go to some training put on by the TWI Institute, and that's how it started. That was in 2006 or 2007.
It turned out that it was something that kind of fit me very well – just because both my parents are teachers, and I always thought teaching would be fun. But I wasn't sure about how to make it all fit together.
You've been doing this awhile. What's the biggest change you've seen over the years in Iowa industry?
When I first started working in the Lean area, which was about 2002 or so, most companies were looking at it as a series of tools, as opposed to a culture. Now, I think most companies that are involved in Lean seem to understand that it's all about making problems visible and developing strong problem solvers.
I think they're getting closer. The key is for all levels of management to realize that they have a role in making it work. It's not about training people, and then they fix everything. It's about, "This is the way I run the company." I think more and more companies are getting that.
Has it been a struggle for some companies to 'get it'?
It's like that with everything. Whenever a company implements something new, they have to keep their finger on it and reinforce it – build in accountability and discipline to stick to that. And the tendency is that you go do a training, then six months later, you come back and everything's back to the way it was.
I think it's just human nature. It takes a lot of effort to adopt something new and stick with it.
If we appoint you to be Supreme Leader from now on, what changes would you make to Iowa industry?
If I could, I'd make it so companies – the management and owners – would all immediately understand the importance and value of their people. There are things that leaders can do to make jobs more rewarding and not to treat people like interchangeable cogs. Developing your people is better for everybody in the long term.
Coaching for development is not an easy thing to do. Guys like me, as an engineer, you tell me a story about something, and my brain's already trying to solve the problem. But if I'm trying to develop somebody's problem-solving ability, I can't do that. I have to be listening to their process. I need to be focused on, "Where do they need to be developed so they can figure it out?"
It's tough. It's not easy. A lot of the time, management has gotten to where they are because they got stuff done. They just fixed things. But if I'm going to develop problem solvers, I can't do that. I have to teach them how to fix things themselves.
You can reach Jeff Mohr (at least until June 8, 2018) at jeffmohr@iastate.edu.