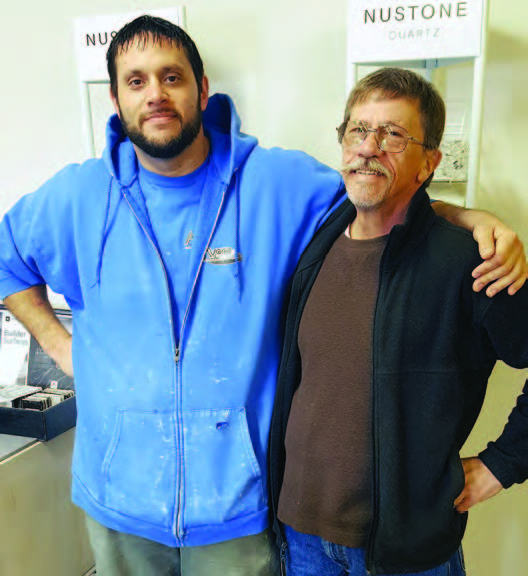 It was a quest for help with the paperwork that sent Patrick Richards to the Flying J truck stop in Avoca.
In 2016, Richards was in the beginning stages of creating what would become Avoca Surfaces, a countertop business owned by Richards, his son, and another father-son team. Lori Holste, executive director of the Western Iowa Development Association, suggested that Richards meet with Andy Alexander, a government contracting specialist with CIRAS' Procurement Technical Assistance Program (PTAP). And a long-term partnership was born.
"I was just looking for someone who could help me with the business plan," said Richards. "But Andy ended up being instrumental in helping us locate a number of things."
With Alexander's help, Avoca Surfaces last year landed multiple jobs installing countertops for Pottawattamie County municipalities, as well as $6,300 worth of work for the U.S. Army Corps of Engineers. The extra business has not been life changing, Richards acknowledged, but it's been helpful.
"We've got a lot of commercial stuff that's popped up for us, but we're going to keep our feet in there," he said. "I still like that government work."
Alexander, who has advised Richards on multiple aspects of his business over the last two years, said the process started with one Flying J conversation and the agreement to draw up a step-by-step plan for breaking into the confusing world of government contracting.
"Every time they did something, we went on to the next one," he said. "One thing leads to another. Eventually, we identify some contracts, and we go after them . . . one bite at a time."
Beyond the business plan, CIRAS helped Richards work on the business' capability statement, its registration for the federal government's System for Award Management (SAM), and its registration with several state and local government purchasing entities.
Most recently, Avoca Surfaces also has been working with CIRAS and Iowa State University engineering experts to test materials for
"Whenever I have questions about anything, Andy is more than happy to spend the time with me," Richards said. "He's very valuable to us."
Richards added that "the guidance, the experience" that CIRAS brought to his business was essential.
"I learned a lot from Andy," he said. "Just the little things from him—where to look, how to look for government contracts."
"I'm not looking for somebody else to do it," Richards said. "I'm looking for somebody to show me, and he's done exactly that."
> For more information, contact Andy Alexander at andyalex@iastate.edu or 402-547-0333.
  A version of this article was published in the Winter 2018 edition of CIRAS News. To read more of that edition or others, please explore elsewhere on our website.