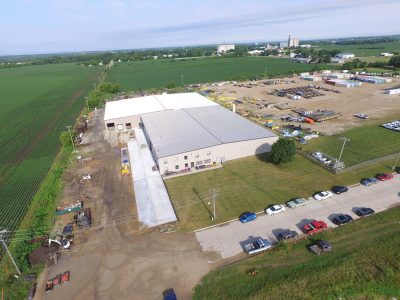 A Northwood, Iowa-based manufacturer of pig and calf flooring and commercial outdoor furniture should see a major boost to its production capacity because of a CIRAS-assisted expansion of its production plant.
Thomas Stensrud, president of ADA Enterprises, said his company's recently remodeled and expanded footprint should provide 20 years of growth for the maker of park furniture and plastic-coated pork industry flooring. "We plan on at least doubling or even tripling our capacity," he said.
ADA Enterprises first approached CIRAS in 2011 about testing a new coating process as a prerequisite to the expansion. Construction began in September 2016. CIRAS experts helped both in testing the coating process—to make sure it economically created a more attractive and durable product—and with designing the layout of the new factory floor.
CIRAS project managers Shankar Srinivasan and John Roberts "helped me to test what the new facility would do," Stensrud said, "and we proved that it would work."
"This allowed them to basically double the number of weld stations and put a better (plastic) coating line in, as well as to develop a better system for staging material," said CIRAS project manager Jim Poe. "The whole process now will flow much better."
Stensrud said the new machines will save ADA money because they will be more environmentally friendly, and "we won't be as wasteful with energy as we were."
Stensrud said he turned to CIRAS for help after several years of working with the center on successful projects, including training on internet marketing and the Theory of Constraints. "We've done a number of different programs through CIRAS, and they've all worked well," he said.
>  For more information, contact Mike O'Donnell at modonnll@iastate.edu or 515-509-4379.
 A version of this article was published in the Fall 2017 edition of CIRAS News. To read more of that edition or others, please explore elsewhere on our website.