Two Iowa companies over the past year have separately discovered a new way to safeguard vibrating truck fenders and a new, more attractive way to lock patio doors—both as a result of work done by graduating students at Iowa State University.
Capstone students in Iowa State's College of Engineering worked on the truck fender project for Link Manufacturing, a Sioux Center company that manufactures heavy-duty truck suspensions. The company asked students to extend the life of after-market fender brackets that sometimes were breaking because of vibration.
"We gave them blueprints of our parts, explained the problem, and had weekly/biweekly meetings through most of it," said Bill Ott, vice president of engineering at Link Manufacturing. "They made a visit out here. We offered use of our lab, helped with tooling that they might need, and gave them parts and drawings, and they did the engineering analysis and made some recommendations."
As a result, Link Manufacturing has begun work on a prototype fender isolator that the company expects will boost sales by 500 fender kits and save at least $20,000 in annual warranty costs.
CIRAS project manager Carey Novak said capstone students worked on 115 projects in 2016, gaining valuable experience while helping Iowa companies create new products or streamline their business models. During each of the last three years, companies involved with such projects reported at least $20 million in cost reductions and/or new or retained sales attributable to the work.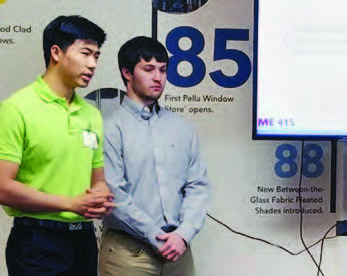 Last fall, capstone students at Pella Corporation were challenged to develop a new means of securing a sliding patio door. The company wanted a lock that was easier to operate and more aesthetically pleasing than its current design. Pella ended up pleased with the results.
"They came up with a new approach that we'd not pursued previously," said Kevin Gaul, engineering manager for industry affairs, product reliability, and design assurance at Pella. "We're taking one of their concepts further this summer, leveraging one of our Iowa State co-op students to get the idea market ready."
Pella also has been using its Ames research location to enhance the firm's relationship with Iowa State. Gaul said Pella is exploring more ways to work with faculty to spark technology-based innovation. The company meanwhile will continue efforts to foster deeper collaboration with students.
"The students' space at the Iowa State Research Park has been key to us being able to engage them on our projects," Gaul said. "It gives the students the space they need for the window and patio door projects to work and plan, and to work without being disturbed."
For more information on capstone collaborations, contact Carey Novak at cenovak@iastate.edu or 515-408-4257.
 A version of this article was published in the Summer 2017 edition of CIRAS News. To read more of that edition or others, please explore elsewhere on our website.