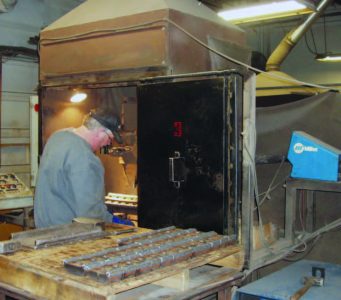 For years, Loran Balvanz's company has made money selling tougher, longer-lasting equipment to the people who grind garbage and recyclables for a living.
Now, the same technology may be poised to revolutionize how farmers till fields.
Balvanz, president of Eldora-based USM Wear Technologies, has been working for years to bring his company's patented CADEN Edge (carbide applied design edge network) to tillage tools. The company says its process, which involves welding a bead with particles of tungsten carbide along the business edge of farming implements, can make tillage sweeps and ripper points last several times longer than untreated equipment.
"For some reason, the entire industry has accepted that these things just wear out and then you replace them," Balvanz said. "We're giving farmers a sincere advantage by giving them equipment that lasts longer."
Balvanz's equipment is produced under a deal signed in March 2016 with Bauer-Built Manufacturing. The company says its massive robotic welding system in Paton, Iowa, is capable of making more than 1.5 million parts annually with a precision and uniformity that no human can match.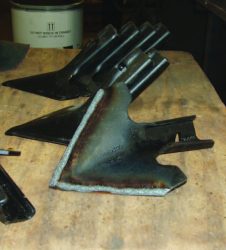 CIRAS account manager Sean Galleger said CIRAS materials experts have worked with Balvanz since 2013 to test metals and the durability of parts.
"They seem to be on track," Galleger said. "They're building the company through new technological advances."
As part of CIRAS-arranged research, Iowa State agricultural engineering professor Mehari Tekeste recently developed an optical scanning system to help USM Wear Technologies quantify how much metal has worn off tillage tools in the field. Tekeste also helped construct a vat and testing medium that will simulate real-world wear on tillage tools without using soil, which can vary even within the same field. Balvanz believes this process will speed development of new products.
USM Wear Technologies currently works with outside companies to purchase tillage sweeps from retailers, treat pieces with the CADEN Edge, then sell them to farmers via websites. "Usually, ours cost twice as much as a standard sweep, and you can expect it to last three to five times longer," he said.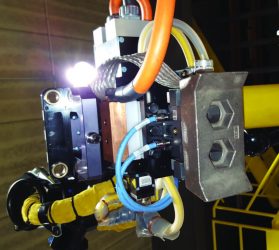 CIRAS, Balvanz said, helped the product prove its worth. He expects sales to top $2 million within two years – $20 million if a major agricultural OEM that is now evaluating company products ultimately endorses them.
"Iowa State and the programs have been instrumental in helping us with things like quickly defining metals and engineering the angle of things," Balvanz said.
He sees enormous potential in future collaboration – both future research for his company and benefits to Iowa State, such as the $21,000 scanning system Balvanz recently donated to the College of Agriculture.
"Everybody wins," he said of the relationship, "and it continues to evolve."
> For more information, contact Sean Galleger at galleger@iastate.edu or 515-290-0181.
 A version of this article was published in the Summer 2017 edition of CIRAS News. To read more of that edition or others, please explore elsewhere on our website.