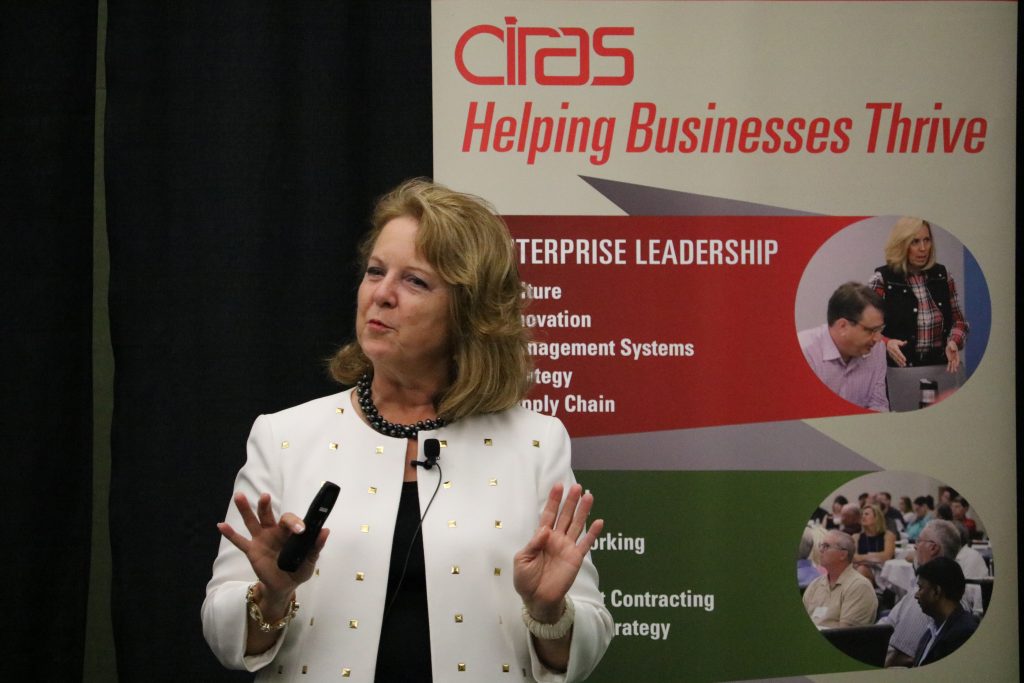 She left a few hours later with her head swimming in possibilities – and potential complications.
"I think we're going to try it," she said of government contracting. "This is a good overview… It's good that CIRAS is out here to help guide through the process."
Sparks was one of roughly 85 Iowa business leaders who filed into the Des Moines convention center for the fourth annual Iowa Vendor Conference, sponsored by CIRAS' Procurement Technical Assistance Program (PTAP). The daylong event featured locally and nationally renowned experts offering tips on such things as prime-subcontractor relationship and the importance of properly researching the federal agencies whose business you wish to pursue.
The government marketplace can be both lucrative and time consuming for small businesses to break into, said conference keynote speaker Gloria Larkin, an author, trainer, business development expert, and president of TargetGov.
"This is why it's important for you to go into things with your eyes wide open," Larkin told conference attendees. "It's a tempting marketplace to go into, but it is all-consuming. You can't just dip your toe into it. You're either in, or you're out."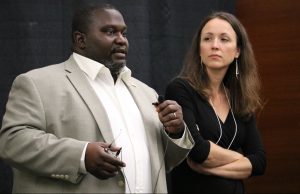 Larkin urged her listeners to thoroughly research the government's history of purchasing various products and services and to market themselves to the specific human beings who handle those purchases in a particular area. Otherwise, she said, "you can spend all the time in the world having great meetings with agency directors, and still it would be difficult for you."
In a different session, Guy Timberlake, CEO of The America Small Business Coalition, warned Iowans to aim for the horizon when they pursue government relationships.
"Don't think about purchases by the government as a series of random actions," Timberlake said, noting that most procurement staffers are dealing with pots of money that were set aside long ago. "If you're just starting your marketing now, you're marketing for two or three years from now."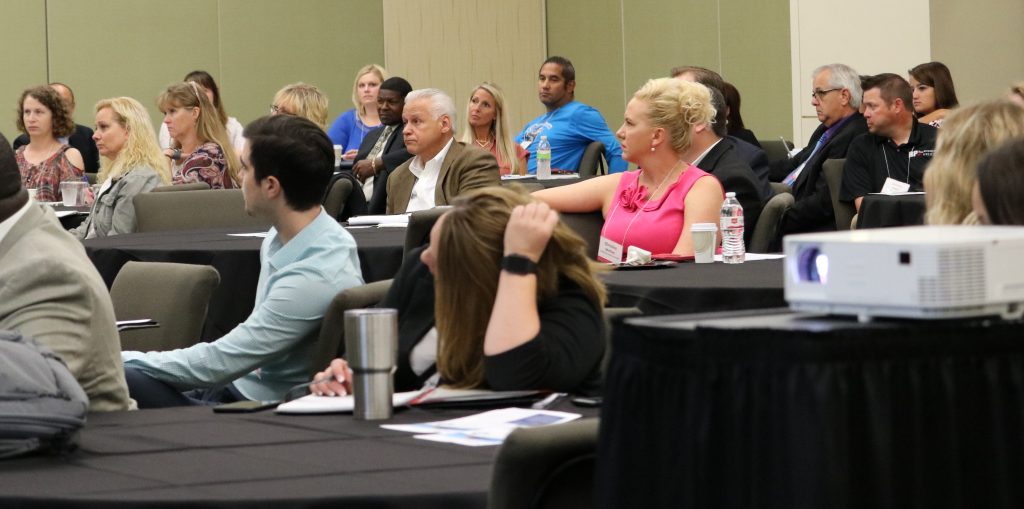 In other sessions, business leaders received tips about navigating Iowa's Targeted Small Business program (a state program that provides purchasing preferences for designated Iowa companies owned and managed by members of curtained disadvantaged groups) or the U.S. Small Business Administration's All Small Mentor-Protégé program, which gives large and small companies a chance to combine forces and compete for certain contracts.
"You do not want to do business with a mentor that is not interested in helping a small business move to that next level," said Dawnelle Conley, deputy district director for the SBA. "But if the timing is right for you, then this program is available to you."
Leah McDonald, project engineer for Munro Construction in Johnston, said she attended the Iowa Vendor Conference mostly to find potential new subcontractors for her company. This year's sessions were unlikely to lead to any direct new business for Munro, she said. But McDonald plans to closely track events like the mentor-protégé session because it "has the potential to blossom into a really good recruiting tool for us."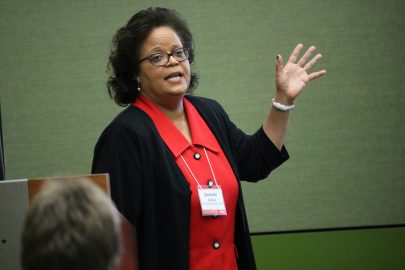 A little while later, Stephanie Zink, head of Taurus Group, a Washington D.C.-based consulting group, also endorsed partnership arrangements, because "teaming with another company really gives you an opportunity to punch above your weight."
Zink likewise urged the Iowans to do whatever they can to minimize the complexities in government contracting. That means learning now to respond to government requests for information in a way that makes it easy for procurement officials to approve them.
"Whenever they can hit the easy button because you have made yourself very easy to evaluate, then that's a good thing for you," Zink said. "It may not be the most exciting thing, but that's how you win."
For more information about what's going on in government contracting, contact Jodi Essex at jodir@iastate.edu or 515-509-0769.