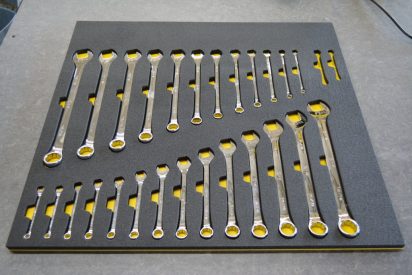 Shawn Frey saved everything the speakers handed out at last August's Iowa Vendor Conference, eventually creating his own training binder filled with various tips and shortcuts for navigating the byzantine world of government contracting.
It was valuable stuff.
Attending that conference, an annual event sponsored by CIRAS' Procurement Technical Assistance Program, "definitely was a catalyst for me learning to talk to government entities about tool-kitting," Frey said.
Nearly one year later, Frey, director of business development for Tool Keepers Foam and Etch, a tool kit manufacturing company in Fairfield, has grown more aggressive in pursuing government sales. Subcontract work that used to come in re-actively is now being proactively pursued. Tool Keepers has developed key relationships and made connections that they expect to lead to valuable opportunities in the future.
"What we have done is that we've developed enough confidence to start looking in those directions," Frey said. "I think it's going to happen. We've made some enormous contacts and really planted the seeds for some future business… CIRAS really helped us demystify and figure out these government contracts."
The fourth annual Iowa Vendor Conference is scheduled to take place on August 10 at the Iowa Events Center in Des Moines. Last year, Frey was one of roughly 180 Iowa businesses who spent the day educating themselves on the wealth of business opportunities available by selling goods and services to federal, state, and local government agencies.
"This was a tremendous opportunity for businesses to get their questions answered and to build relationships with people who could be partners down the road," CIRAS government contracting assistant Jodi Essex said last year. "We're glad so many people could take part in it."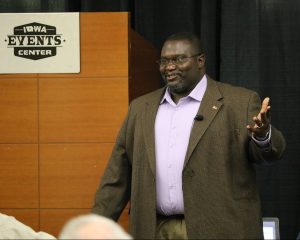 The 2016 keynote speaker was Guy Timberlake, chief visionary officer and CEO of The America Small Business Coalition, an organization that helps companies find, qualify, and win business in the government sector.
"Every agency out there has a mission," Timberlake told his audience. "If you can align your business to that mission, then you'll become an asset to them. That's code for: You'll get business."
Timberlake spoke during three different sessions and worked individually with conference attendees (including Shawn Frey) both before and after the 2016 event. In addition, attendees were able to network with various contracting personnel and chat with exhibitors from government agencies.
Conference participants also could listen to attorney Steven Koprince, author of "The Small Business Guide to Government Contracts," spend an hour debunking common contracting myths. [No, if your company has grown too much to be a considered a "small" business, you can't avoid the issue simply by failing to file income taxes.] Meanwhile, CIRAS staffers in a session next door encouraged attendees who might be frightened of federal-level contracting to pursue the "low-hanging fruit" of selling to local governments.
Small towns, school boards and prisons all have budgets, too, CIRAS government contracting specialist Mary Zimmerman told the group. "Just like anyone else, those sites need someone to do the cleaning," she said. "They need someone to do the mowing. They need someone to supply goods and services to them."
Other sessions included a panel discussing the interplay between large and small businesses in subcontracting relationships and representatives from Rock Island Arsenal and Offutt Air Force Base discussing their roles in advocating for small businesses during the procurement process. Consultant Karla Williams then closed the day by warning attendees that looming federal requirements will put more onus on individual businesses to protect computerized federal information.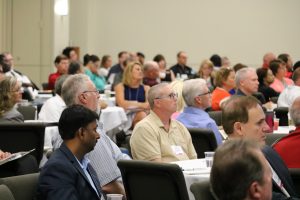 "This conference is very valuable," said Hari K. Nallure, president of  ePath USA, a technology company pursuing federal contracts. "We learned a lot of stuff, and we also learned about how we can improve ourselves."
The keynote speaker for the 2017 conference is Gloria Larkin, a nationally known speaker, author, trainer and federal contracting business development expert. She is the author of "The Veterans Business Guide: How to Build a Successful Government Contracting Business," which is now in its fourth printing, and "The Basic Guide to Government Contracting: How to Sell Your Services and Products to the U.S. Federal Government."
For more information about the conference, visit this registration site.
Or, contract CIRAS PTAP government contracting specialist Jodi Essex at jodir@iastate.edu or 515-509-0769.