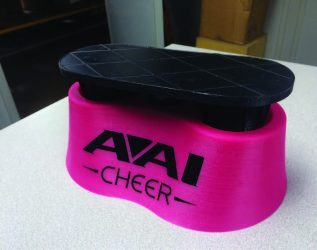 A trailblazing exploration of metal additive manufacturing as a new way for Iowa companies to make tooling could soon reap rewards in terms of cheerleaders with better balance.
American Athletic Inc., a Jefferson, Iowa-based sports equipment manufacturer, plans to launch a new product this fall aimed at helping high school and college cheerleaders around the country find a safer way to strengthen leg muscles and learn the kind of balance necessary for standing in someone's hands. American Athletic describes its new EliteTM Cheer Stand as a safer, closer-to-the-floor way for cheerleaders to train. The product, which also was tested by Iowa State University cheerleaders, includes multiple plastic parts produced by Ottumwa-based Angstrom Precision Molding—using a mold built by CIRAS' metal 3D printer.
The new cheer stand is one of many projects CIRAS is using to show companies how additive manufacturing can change design limitations and open up new possibilities for their businesses.
"It's early," said Jim Johnson, chief operating officer at Angstrom. "This is the first mold like this we've completed. We'll know more from design to design and part to part than we do now. But it looks very promising."
Chris Hill, director of CIRAS' Technology Assistance Program, said he's working with Angstrom to design several different sizes of standard mold bases with removable cores. The reusable bases will be paired with swappable inserts that can be printed quickly in an additive manufacturing machine—and without many of the limitations of traditional production methods.
CIRAS' machine uses powdered metal and a laser to build complicated items one 40-micron-thick layer at a time. Johnson estimates he will be able to make parts 10 percent faster using 3D printed molds, because their curved cooling channels are more efficient. If a mold stays cool, then plastic parts can be removed from it faster, alleviating concerns about warping.
Hill said the new system will be "more expensive initially, but cheaper down the road as you bring more tools in and use the standardized bases…. But processes will get faster, and those costs will change. The story will get better to tell."
Hill said an upcoming phase should extract even more cost savings by optimizing the design of inserts to use less material.
Senad Salkic, senior design engineer at American Athletic, praised CIRAS' help in designing the EliteTM Cheer Stand. "Additive manufacturing means CIRAS helped us keep our initial costs low, which results in a more affordable product for our customers."
For more information, contact Chris Hill at chhill@iastate.edu or 515-294-5416.
A version of this article was published in the Fall 2016 edition of CIRAS News. To read more of that edition or others, please explore elsewhere on our website.