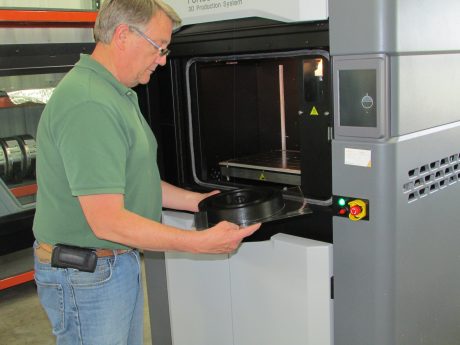 A Cresco tool-and-die maker's search for diversification has led the company, with CIRAS' help, to stake out new territory as what may be the first Iowa business of its kind to produce parts for customers via additive manufacturing.
Upper Iowa Tool & Die & Innovations, founded in 1978, purchased a new plastic-based 3-D printer earlier this year after conversations with CIRAS convinced the company to aim higher in its search for a way to differentiate from competitors. Since mid-April, Upper Iowa has been pitching its additive manufacturing capability both to new clients and as an add-on for services to existing customers.
Owner Scott Fortune said the 3-D printer is intended to give his firm new options in a world of rapidly evolving manufacturing technology. Upper Iowa makes tools, dies, assembly and checking fixtures, molds for the plastic injection molding industry, and specialty manufacturing equipment. The company has lost work over the years as some clients opted to shift various projects to additive manufacturing. But Fortune believes the new machine now positions his firm to fight for that business – as well as to seek new opportunities with new customers.
"This is a way to lengthen the longevity of our company," Fortune said. "If we don't diversify into 3-D printing, it won't be long before we won't employ eight people any more. We won't be nearly as large…
"But it could be that 3-D printing grows," he said. "It could be that it grows to the point that it becomes the company, and the tool and die business becomes a sideline to that."
Located nearly across the street from a major Donaldson Company manufacturing plant, Upper Iowa Tool & Die for years has been focused largely on products related to air filtration for the transportation, construction and agricultural equipment industry. Such business remains valuable, Fortune said. But Upper Iowa realized during the current agricultural down cycle that it needed to make changes for the long-term health of the business.
Fortune said the company by last year had decided to expand its business, bring the plastic injection process in-house and turn Upper Iowa into a one-stop shop for plastic injection molding. Seeking advice, the company reached out to CIRAS (via a regional economic development official) to obtain some additional plastics expertise.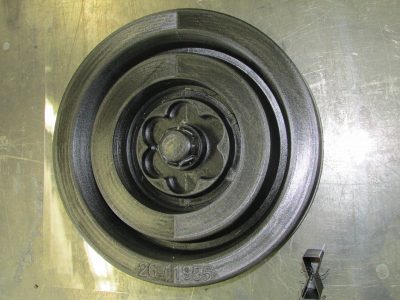 CIRAS account manager Sean Galleger and plastics specialist Shankar Srinivasan met with Upper Iowa officials in late 2015 to discuss the company's "default future" – the most likely way things would go for the business and how that might change under various scenarios. It soon became apparent during that meeting, Fortune said, that the injection molding industry was too price competitive to justify a costly investment in new equipment. Upper Iowa would have been fighting for slim profits against companies with much longer injection-molding résumés.
"ISU and CIRAS were a blessing," he said. "I'm very thankful for the help and guidance that they gave us, because we probably would have muddled down the wrong path and regretted it and struggled. But now, it's all good."
Galleger said the Cresco company "knew that they needed to change and that they needed to do something because of their declining industry. At the time, really the only viable option they knew of was injection molding. I think one thing that CIRAS did was help layout a couple of other options."
Srinivasan and Galleger believe the newly purchased technology will allow Upper Iowa to sell multiple services to its customers – from 3-D design and modeling to prototyping, creation of finished parts, and potentially, serving as the go-to source for seldom-needed replacement parts. At the same time, the company now sees an expanded universe of potential customers.
"Instead of just taking up one extra step in the supply chain (like they would have with injection molding), they've now found three, four, or five different areas in that supply chain – from preproduction work all the way through managing spare components and spare tooling," Galleger said. "They can now turn a new part out in a couple of days that the client can use and assess whether that's the direction they want to go. If not, the client can make some changes, and they can get another version in another couple of days."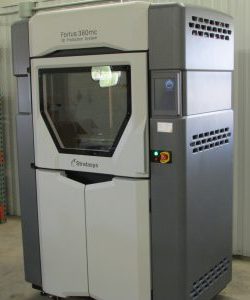 "They're saving the company just tons of time."
Fortune sees the 3-D printing as partially complementary to Upper Iowa's precision tooling business, since the machine shop will be able to take printed parts and machine them "to provide a surface which challenges the smoothest injection mold surface." He also wants the printer to lead Upper Iowa into new areas, such as making equipment for the medical industry. Opportunities lie in several directions.
"It takes you out of that tunnel vision into kind of a panoramic view all of a sudden," Fortune said. "The problem is, which way do we go? It's a neat problem to have."
Fortune and his son, business co-owner Alex Fortune, selected their 3-D printing system after consulting with a third CIRAS expert – Chris Hill, director of CIRAS' technology assistance programs. CIRAS, with help from a wide variety of state, federal and Iowa State University partners, last fall purchased its own metal 3-D printer for the purpose of helping Iowa companies explore the capabilities of additive manufacturing.
"This is a perfect example of how, if you figure out your business model, how new technology can be a game changer for your entire business," Galleger said.
For now, one key hurdle for Upper Iowa Tool & Die  lies in educating companies about the possibilities that 3-D printing can provide. Alex Fortune said traffic on the company's web site (which was improved following a third CIRAS consultation, with Internet marketing specialist Paul Gormley) has tripled since the 3-D printer arrived. However, most potential customers remain too hesitant to actually follow that up with a phone call.
"We're obviously getting some pretty serious exposure," Alex Fortune said. "The interest is there."
"This is the future of manufacturing, that's really where it's coming down," Scott Fortune said. "We hope we're on the leading edge, so we can get over the hurdles that you have to go through on the learning curve before anybody else does this."
For more information on business transformation, contact Sean Galleger at galleger@iastate.edu or 515-290-0181.
A version of this article was published in the Summer 2016 edition of CIRAS News. To read more of that edition or others, please explore elsewhere on our website.