It might be a step too far to call Sears Manufacturing's problem a pain in the backside. But the evasive and mysterious cause behind an ongoing problem with a purchased component used in the company's vehicle seat suspension certainly proved annoying—until Sears called upon members of CIRAS' Technology Assistance Program (TAP).
The result? An in-depth analysis of cracked air compressors that early this year will lead to a design change on the pneumatically controlled seats that Sears, a 160-year-old Davenport firm, makes for construction and agriculture equipment around the country.
CIRAS "gave us the clarity and the necessary supporting data to understand what the root cause was," said Kelly Sheffler, strategic quality engineer at Sears Manufacturing. "The detail and the effort and the time that they spent with it mean their report-outs are phenomenal. . . . We are very confident this is the solution."
CIRAS' TAP (a relatively new name for a collection of long-standing services) has worked with more than 175 distinct businesses in 66 Iowa counties over the past five years. In 2015 alone, companies responding to surveys reported an economic impact from that work of more than $18.5 million.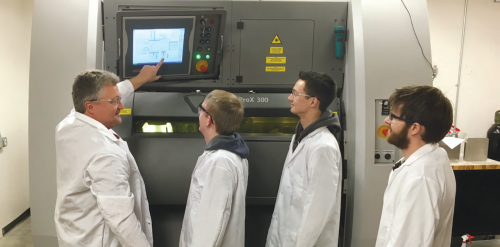 Technology assistance covers a wide range of programming, from traditional metallurgic analysis to contract research programs and helping companies expand their access to engineering expertise. The TAP umbrella also covers CIRAS' innovation services, efforts to expand Iowa's additive manufacturing knowledge via a CIRAS-owned metal 3-D printer, and work that used to be done under the former Institute for Physical Research and Technology's Company Assistance program (before that program was absorbed into CIRAS in 2014).
In the case of Sears Manufacturing, CIRAS metallurgists evaluated some of the failed air compressors and diagnosed stress corrosion cracking. That analysis was backed up with an x-ray examination by Dave Utrata at Iowa State University's Center for Nondestructive Evaluation.
Other projects don't require as broad an analytical team.
One recent project, for example, involved helping an Iowa company set up an internal lab to test the quality of its welding work in-house instead of having that work sent to a lab out of state.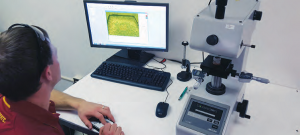 In another instance, Scott Lundquist, a design engineer at Groschopp Inc. in Sioux Center, came to CIRAS seeking advice on what his company needed to set up its own metrology lab. Groschopp currently sends out some of the parts it uses to make fractional horsepower gearboxes and motors so they can be heat-treated and made harder. At times, customer-specific testing or design validation is required – beyond what is normally provided by the heat-treat supplier. Groschopp hopes its new equipment will eliminate the need for outside lab consulting, thus reducing costs.
Lundquist believes there will be "a 'cost-avoidance' to using the preparation and inspection equipment, but it is difficult to predict a dollar amount." Savings will be realized in time, money and convenience.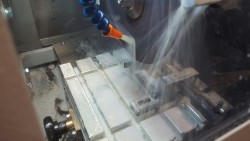 Groschopp plans to continue developing its on-site technology and may add more equipment later this year, Lundquist said.
CIRAS metallurgist Paul Berge said his group welcomes questions like the ones received from Groschopp and other companies. CIRAS experts aren't interested in doing regular tests for companies, but they're happy to teach firms what they need to know and how to shop for equip­ment. Doing so adds new capabilities to Iowa industry, Berge said.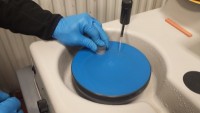 "Small- to medium-sized companies usually don't have the kinds of people on staff who have the kind of background you need to answer these questions," Berge said. "Slowly, we're trying to help them."
.
This article originally appeared in the Winter 2015-16 edition of CIRAS News. You can find the rest of this issue and more of CIRAS News on our website.