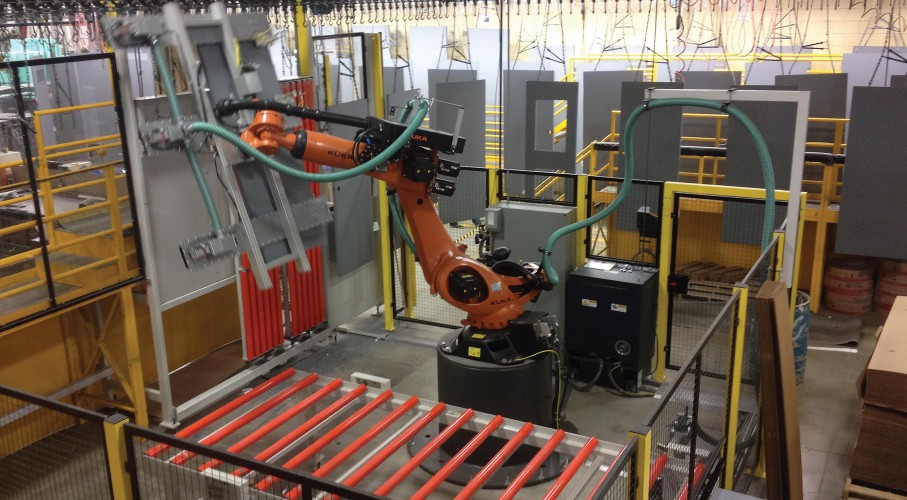 The evolution of manufacturing is occurring bit by bit across Iowa—including, among other places, at a metal door factory in Mason City.
Curries, part of the Sweden-based ASSA ABLOY Group, is where roughly 490 production workers go each day to produce steel doors and frames.Since 2012, the company has been working steadily to automate the final phase of its door-handling process—a manual labor-intense procedure that tends to spawn high turnover and can cause the kind of muscle injuries that are common in an aging workforce.
The first phase was installing machines to lift doors off the assembly line and lay them flat. This past spring, a new auto­mated system was put in place to begin packaging the doors. David Bill, Curries' engineering manager, said the company now is evaluating a third phase with "the potential to eliminate the manual move­ment of these doors." If adopted, the new machines would free up additional employees who could be reassigned to work in other parts of the plant.
"I think that's our strategy—at least as far as being located in Mason City and having the labor market that exists here," Bill said. "That's what we're going to have to do to keep building the same volume in Mason City with the workforce that we have."
Companies across Iowa have turned to various forms of automation as one way to deal with an inability to find skilled workers at what the companies consider to be a practical wage. The idea is to feed potential growth by freeing up as many current workers as possible and moving them to something more important.
"We don't look at automation as a way of reducing head count," said CIRAS industrial specialist Chris Hill. "We look at it as a way of better utilizing the labor force you have now to maximize profitability for the company. We want everybody working in the highest value-added areas."
Burton Mills, president of Advanced Machining & Automation Inc., a Mount Pleasant provider of automation equipment, said most companies come to him "because either their cost structure has to be cheaper for some reason or they think they've exhausted their available people, and they're stuck. Maybe they'll be able to add one or two more, but they won't be able to add the 20 that they would need to launch something new."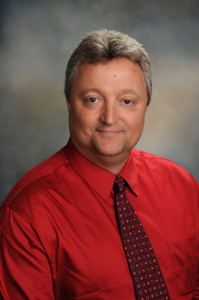 Automation covers a broad spectrum of possibilities, Hill advises—from simple fixtures that can make it easier to repeatedly and reliably drill the same hole at the same place to a totally integrated system in which machines are linked electronically from the time an order is taken to the time the product is routed to a truck. One size does not fit all.
Many companies may find increased productivity by automating repetitive or physically demanding tasks that cause problems for workers. "Anymore, people don't seem to want to do the repetitive stuff," said Ken Eagleburger, a plant engineer at Polo Custom Products in Monticello. "So they don't seem to want to stay long."
At the same time, technology has made automation cheaper and more accessible than ever, experts say. Factor in things such as a reduced need for worker training, and the machines get even easier to justify.
John Burg, division president at Acieta in Council Bluffs, said business during his 30-year career in building automation systems has expanded from roughly five projects per year to the current "more like ten a month."
"That's growing," Burg said. The automation industry "will do about $2 billion-plus annual revenue in 2015, and we're forecasted to grow five-fold in the next 10 years."
The impact could be felt across the board. A 2013 paper by two Oxford University researchers argued that up to 47 percent of American jobs could be considered "high risk" to be subsumed by automation over the next "decade or two." The most-threatened occupations list ranges from routine-based tasks such as telemarketing and sewing to algorithm-solvable things such as tax preparers, data entry keyers, and insurance underwriters.
Experts insist that robots don't shrink payrolls so much as change them.
Research published earlier this year by the think tank Third Way found no direct link between companies who put industrial robots into service and the number of manufacturing jobs lost. For example, the United States lost 33 percent of its factory jobs between 1992 and 2012, but Germany lost only 19 percent—despite deploying more than three times as many industrial robots per hour of production.
Researchers did note a link, however, between robots and the makeup of manufacturing workforces. A Harvard Business Review article described the data as suggesting "that the arrival of robots tended to increase the employment and pay of skilled workers even as it seemed to 'crowd out' employment of low-skill, and to a lesser extent, middle-skill workers. So while robots don't seem to be causing net job losses, they do seem to change the sort of workers that are in demand."
Burton Mills agrees with the reasoning.
"If you used to have a skilled person, such as a welder, and now you have a machine doing the welding, then that employee [running that particular portion of the line] turns into a parts handler or a loader. That person can be paid less than what they used to, because there's less skill involved than there used to be," Mills said. However, "there's also a lot more opportunity on the skilled end than there used to be. There will be a need for that higher-skilled guy to keep the machines running."
For growing companies, the shifts can be powerful.
Polo Custom Products manufactures a wide variety of items, including special circular sponges used by the U.S. military to patch battlefield wounds. Production involves cutting disks out of the sponges, then affixing them to gauze and placing them on a strip. Following some extensive work with CIRAS, the company hopes through a low level of automation to increase production, reduce tedium-induced mistakes, and lower personnel costs (for this product) by replacing five employees with one.
"We're in a growth phase here, and we're trying to grow," said Eagleburger, a plant engineer. "Bodies are limited right now. Anything we can do to free up bodies to do other things is good."
Bruce Tamisiea, president of Tecton Industries, Inc. in Spencer, Iowa, said his company has never had a problem finding workers. Founded in 1981, Tecton makes precision machine component parts, including hydraulic valves, spools, and metrology devices, as well as parts for weapon and robotic manufacturers. Tecton's goal has always been to help employees "work smarter, not harder," he said.
"Our team has been very innovative utilizing several types of automation, from robotics to the use of 3D printers," Tamisiea said. "Much of what we produce goes outside the country, so we're competing with people around the world often. Automation provides us another method for improving our quality and productivity in a consistent, cyclical way."
At Curries, improvement has meant responding to shifting customer needs in a door industry that no longer is based on large orders from distributors. Retailers no longer keep large amounts of stock on hand, Bill said, choosing instead to have customers special order doors with various individual modifications.
The shift means Curries' production line at times can see a great deal of disparity from one door to the next. Human workers therefore will always be crucial (and frequently be in demand) in that part of the plant.
"We will never be a LEGO factory where there's two people running the entire facility," Bill said. "Instead, we'll just continue to identify and implement opportunities to minimize labor costs."
"For now, we're compensating for the labor shortage," Bill said. "But we can't slow down our efforts. If anything, we have to accelerate."
CIRAS Works with Companies to Make Smart Automation Shoppers
CIRAS has spent the past year, with the help of an Iowa State University engineering professor, working to upgrade its ability to talk to companies about automation.
A CIRAS presentation walks through multiple ways to evaluate automation: How do you calculate the return on investment? How much labor will you save by installing new machines? Will you save in reduced training or employee injury costs? What will the freed-up labor allow you to do? Are the new machines flexible enough to provide benefit beyond a single product?
The goal, said Chris Hill, head of CIRAS' Technology Assistance Program, is to make manufacturers smart shoppers before they sit down to work with the companies that provide automation equipment.
It's important for companies to think through all the implications of new machines, Hill said. If product requirements call for a production area to be cleaned frequently, then you have to mention that to the people who make the machines—otherwise, they may design it in such a way that you have no access.
"I compare it to buying a car," Hill said. "If you just go in and say you want a car, you may get whatever they want to sell you. But if you say, 'I want something with good gas mileage, maybe a certain size of engine,' then you're driving the conversation, and they'll do a better job of meeting your needs."
For more information, contact Chris Hill at 515-294-5416 or chhill@iastate.edu.
This article originally appeared in the Fall 2015 edition of CIRAS News. You can find the rest of this issue and more of CIRAS News on our website.