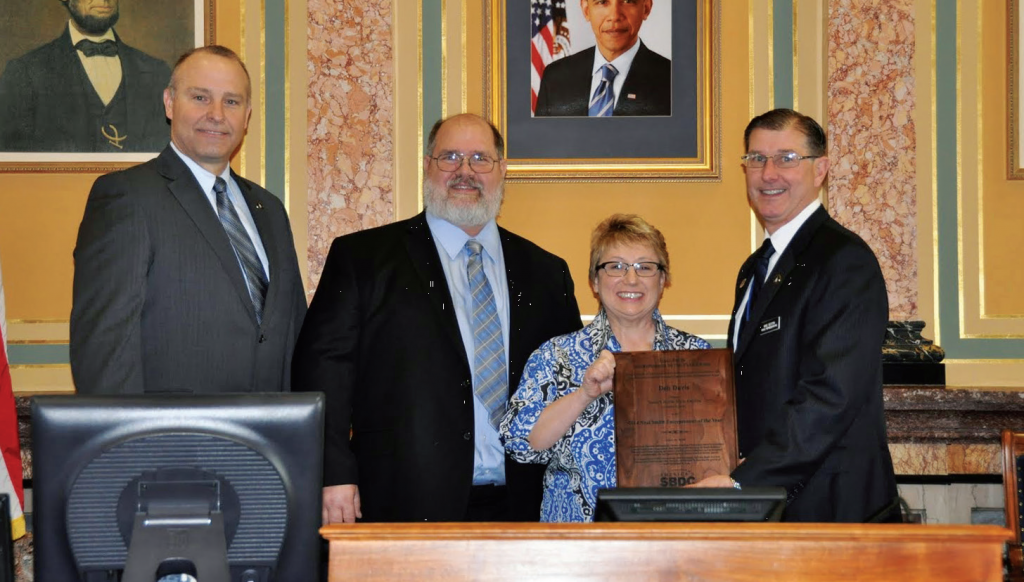 Sisters' remarkable growth was recognized earlier this year (photo at the Iowa State Capitol, right) when Davis was named the SBDC's Neal Smith Entrepre­neur of the Year. The award, which hon­ors an Iowan who has been in business at least three years and seen significant assistance from an Iowa SBDC, caps a long career for Davis involving food and nutrition at hospitals and nursing homes.
"It proved to me that staying at work until 1 a.m. to finish an order or taking a customer call—all that hard work pays off," Davis said.
The SBDC helped Davis find financing, create a business plan, and perform cash flow analyses and market research. The SBDC also connected Davis with Iowa State University interns.
Officials from the SBDC then sent Davis to CIRAS, which connected her to food safety training oppor­tunities at ISU Extension and Outreach in Webster County and in Ames. CIRAS also helped Davis make key decisions for her company, such as the type of license to obtain for the new facility and determining its layout and process flow.

"Small business owners don't have to know everything," said Brenda Martin, CIRAS account manager, "but it helps to know about the bodies of knowledge out there you can utilize."
"It takes a village to run a business," Davis agreed. "You can't do it by yourself, and there are some good resources out there to help you."
Davis expects her customer base to reach 1,800 by July. The company says its current "consumers are made up of anyone… who eats" and that a high percentage of its business comes from the elderly and families. The company is exploring new markets, such as selling to county jails. If things pan out, it will mean another $80,000 per month in sales—and the need to hire another six employees.
> For more information on food safety training opportunities, contact Brenda Martin at bkmartin@iastate.edu or 515-570-5282.
This article originally appeared in the Summer 2015 edition of CIRAS News. You can find the rest of this issue and more of CIRAS News on our website.