The core facility, once it opens next sum­mer, is intended to serve as a one-stop shop for entrepreneurs, businesses, and industries that want to partner with Iowa State University in a multitude of ways.
"The idea is to encompass in one facility the lion's share of services that are under the umbrella of economic development or that are working with industry," said Alison Doyle, marketing coordinator at the research park, which opened in 1987. "Right now . . . it's hard for companies to know what to do to engage with Iowa State.
"This building will not only create a 'front door,' but some really neat synergies."
The $12 million project anchors Phase Three of the research park. It officially broke ground in September, but most of the work to date has involved construc­tion of a road to provide access to the site.
Meanwhile, Phase Two continues, and new projects there will bring the research park its first commercial amenities to benefit site employees. Developers in June announced plans for a new restaurant at 2400 North Loop Drive to be built by the owners of The Café and several other restaurants in Ames.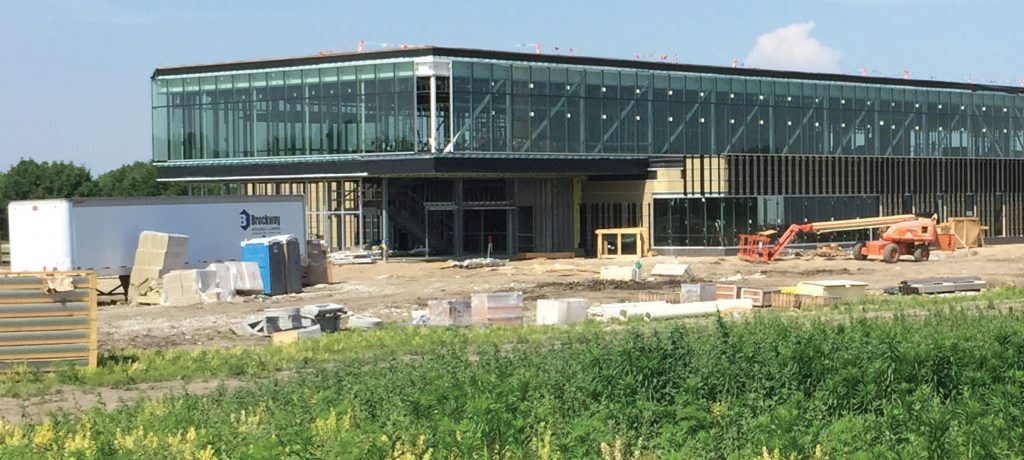 The new 49,210-square-foot core facility, located south of the existing research park, will hold about 100 employees and conference and meeting space for several hundred people. It is expected to open in June 2016.
Relocating there in addition to CIRAS will be research park administrative offices, the Office of Economic Development and Industry Relations, the Iowa Small Business Development Center, the Pappajohn Center for Entrepreneurship, Iowa State's Office of Intellectual Property and Technology Transfer, the Iowa State University Research Foundation, the Cultivation Corridor regional economic development project, and CyBIZ Lab.
CIRAS is one of the largest economic development units at Iowa State and has more than a dozen partnerships with entities throughout the state, said Ron Cox, CIRAS director and associate dean in Iowa State's College of Engineering. Together, CIRAS and its partners serve a broad mix of established companies that work in manufacturing, construction, information technology, utilities, and professional, scientific, and technical services.
With all of Iowa State's economic development units moving under one roof, there will be more opportunities for collaboration and communication, Cox said.
"If a group is visiting and wants to talk about a project, the Office of Intellectual Property will be there, CIRAS will be there, the SBDC will be there," Cox said. The move "is a service to the client to make it easy for them to do business with Iowa State."
The research park currently has approximately 60 tenants and more than 1,300 employees. Doyle said the full third-phase development—another 200 acres and 902,000 square feet of office space—will bring the number of employees to a "conservative estimate" of 6,000 at completion.
The park is home to about 40 businesses, from software developers to small manufacturing firms, and it also is attracting employers expanding from elsewhere in Iowa.
Vermeer Manufacturing of Pella announced plans last fall to develop on the site, while another tenant, Workiva, also saw the potential to tap into student and faculty resources at Iowa State to expand its businesses.
Vermeer was the first Iowa manufacturer to join the research park in 2012. It is expected to open the Vermeer Applied Technology Hub in mid-2016 to house offices, collaborative meeting space, and an equipment bay for industrial and agricultural equipment that the company manufactures.
"In our opinion, there is no better place to allow this important work to be done than Iowa State University," Doug Hundt, president of Underground and Specialty Excavation Solutions at Vermeer, said last fall. "While career opportunities are plentiful for software engineers today, Vermeer believes there is a highly skilled, technical population at Iowa State who would also be inspired by the tangibility of turning the wrenches and seeing how the software comes to life. That's what the Vermeer Applied Technology Hub will be all about."
The building will "be a hotspot of ideation for the way we design, manufacture, and support the equipment and the customers who buy it," added Mark Core, Vermeer's vice president and chief marketing officer. "Not only does this create opportunities for full-time students at Iowa State to have close-to-campus, real-life experience, including part-time work and internships, but it also creates an offsite, desirable location for full-time Vermeer team members seeking to live in Ames or pursue additional education through Iowa State University."
The Iowa State University Research Park was created with the idea of fostering ties and collaboration between the university and Iowa industries. The intention now is for those ties to deepen.
The new core facility will be the "catalyst for a lot of greater things to come," said Michael Crum, Iowa State's vice president for economic development and business engagement.
Doyle said any time frame for Phase Three construction beyond the core facility will be based on job creation.
"It's our hope that we'll build out several of the lots right away, and from the jobs created on those lots, we'd be able to do the same thing again . . . and construct a Phase Four," she said. Under the current master plan, completion would take up to 10 years.
For more information, contact the ISU Research Park at 515-296-PARK (7275) or www.isupark.org/contact.
This article originally appeared in the Summer 2015 edition of CIRAS News. You can find the rest of this issue and more of CIRAS News on our website.