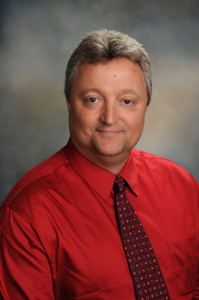 Chris Hill, an industrial specialist at CIRAS, said the goal is to be an educational resource for companies that know they need to expand their businesses but are hampered by factors such as a shortage of available workers.
"Typically, we hear, 'I need to make more of this' and either 'I don't have the people' or 'I need a better way to produce the item because of competitive pressure,'" Hill said. "Or, in a few cases, it's that 'I've got a lot of competitive pressures, and I've got to find a new way to do what I'm doing.'"
A CIRAS presentation developed last year by Hill and Emmanuel Agba, a former Ford Motor Company executive and current senior lecturer in the Iowa State University College of Engineering, is designed to teach Iowa factory owners about all the possible levels of automation—from rotating fixtures that let workers quickly change equipment to complicated conveyor belts and sensors integrated with other systems. Company leaders then can use that knowledge to decide what path to pursue and how they should properly shop for automation equipment.
Agba said the presentation was born once researchers discovered "a gap in communication and understanding of what is needed by manufacturers and what should be provided by system integrators." Automation decisions can lead to "costly and disastrous" failures if they're not made with a clear understanding of how the changes will impact the entire business, he said.
Business owners sometimes over estimate what is needed due to a lack of information, Hill said. "Some people believe that if I'm going to automate, I'm going to need to get multiple-axis robots," he said. "It can be very uncomfortable for a person, so they may not take action. What we try to get people to understand is that there are many different levels of automation, and risk can be managed with information.
"When you talk about automation, a key goal is to minimize any non-value time," Hill said. "When you're swapping out fixtures to start making a different part, you're really not creating something of value. You're getting ready to create something of value. So what are the options to reduce this non-production time?"
The CIRAS presentation walks company officials through multiple ways to evaluate automation, including a look at the math involved in figuring its return on investment. Technology upgrades required to automate don't always pay for themselves quickly, Hill said—unless you factor in less tangible benefits, such as faster time to market and ability to free up employees
to work on other value-added projects as a result of these new processes.
Picking the correct system for a particular company requires a clear understanding of what a company wants to accomplish today and in the future. You can design things in a way that maximizes the current benefit of new machines, but allows for future flexibility – if you develop an automation strategy at the beginning.
"There are a lot of pitfalls," Hill said. "Some automation projects fail, and they fail for typical reasons. We help companies understand the type of information that is needed, assess options, and develop an automation strategy."
Such projects work best when they're used to squeeze productivity out of a growing-but-strained business, he said. "If a company is in trouble, automation is probably not going to be the answer."
Agba believes that "a majority of Iowa manufacturers know that automation is inevitable" and that Iowa can "keep our competitive edge" by becoming a leader in automated manufacturing.
"The question we are asking Iowa manufacturers is 'What are those things that you don't want to spend time doing?'" he said. "We can assist you in thinking about creating a machine that will help you do those things so your employees can go and do more important things."
> For more information or to see the CIRAS automation presentation, contact Chris Hill at 515-294-5416 or chill@iastate.edu.