CIRAS intern Cassandra Swacker was nationally recognized at the Congress of Rehabilitation Medicine in November 2022 for projects she completed with CIRAS.
Swacker's main project was in collaboration with On With Life, a nonprofit organization that works primarily with individuals who have experienced traumatic brain injuries, to design and produce custom life aids to increase independence for clients.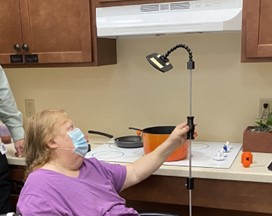 With the tools and experiences offered by CIRAS, Swacker gained valuable experience utilizing advanced technologies like additive manufacturing, or 3D printing. She created life aids, like cupholders, wheelchair components, and spoon holders with various diameters to allow for easier use.
"Working with On With Life, I had the opportunity to see people use the products I've created and how it's benefitting them and their lives," Swacker said. "It's been great to see how my work directly impacts persons served."
Swacker, Chris Hill, Project Director at CIRAS, and Joe Walters, Director of Analytics at On With Life, were selected to present their work at the American Congress of Rehabilitative Medicine, a national convention inviting rehabilitation industry professionals to exchange knowledge and share their work within the community.
At the convention, Swacker spoke on the benefits of the collaborative design process and additive manufacturing.  She provided numerous examples of how they influenced her work with On With Life.
"3D printing has become more attainable for people over the past few years," Swacker said. "It's something that many people know about, but not many know how to use it effectively. We wanted to share how it can be easily incorporated into programs and how it was attainable for us in Ames, Iowa, so people on the other side of the country, or world, can do it, too."
Walters felt that Swacker represented the organization well at the conference.
"Being selected to speak at this conference was national recognition on how our efforts can really impact clients' lives," Walters said. "Cassie did a great job, and not only did she learn, but we also learned how to utilize technologies like 3D printing to help our clients. On With Life will continue to evaluate other technologies in the future and will engage with CIRAS."
Hill was proud of Swacker's work throughout the multiple semester project.
"I really enjoyed watching Cassie's problem and solution definition skills grow throughout this project," Hill said. "She learned critical thinking skills and how to utilize technology to help ensure design concepts would address needs."
Swacker is pursuing a mechanical engineering degree and a biomedical engineering minor through Iowa State University's College of Engineering program. Her work at CIRAS has allowed Swacker to see where her potential lies within the industry, offering experiences relative to her future career path following graduation.
It has been very beneficial to receive hands-on industry experience " Swacker said. " CIRAS Staff have been great mentors, and I want to encourage other students to seek opportunities with CIRAS, too."