Iowa State sophomore engineering student and CIRAS intern Cassie Larsen was ready to take on a new challenge when she learned about an opportunity with Dubuque Screw Products (DSP). The northeast Iowa business needed a new shop layout for its expanding facility.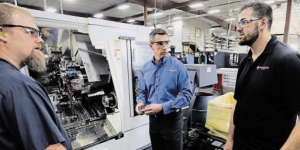 "The company had a few ideas, but they were open to anything that would maximize factory throughput," said Larsen. "That sort of openness was appealing but also challenging because there were several directions I could go."
Using Flow Planner software, Larsen created different layouts for plant leaders to consider. Each layout used process maps that simulated the way products would flow through the plant. Workstations could be moved around to help develop a plan for maximum efficiency.
Larsen's work was supervised by CIRAS project manager Kirk Haaland. He made the initial contact with the company, showed Larson how to use the software, and provided guidance as she moved through the process.

DSP leadership was pleased with Larsen's work.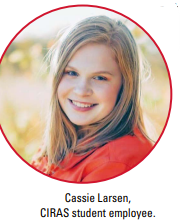 "We are confident we have a plan that gives us the best balance of current needs and future growth opportunities," said Chris Hohmann, production manager at DSP. "We believe implementing this plan gives us the opportunity to gain an additional 50% market share and increase the efficiencies of our current processes by 10%."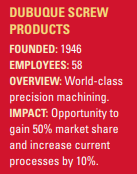 Established in 1946, DSP is a precision machine shop specializing in small– to medium–sized round and prismatic components of various levels of complexity. The company previously worked with CIRAS on a Manufacturing 4.0 grant, which resulted in the purchase of a video measuring microscope to inspect components with complex features.

For Larsen, working on the project has helped solidify her career plans.

"Before taking on this role, I wasn't exactly sure what I wanted to do with my industrial engineering major," she said. "But this project and others I have done for CIRAS made me r  ealize that I want to work in some aspect of manufacturing."
For more information, contact Kirk Haaland at khaaland@iastate.edu or 515–520–7623.