Here is CIRAS's quick look at major economic indicators for Iowa. For an introduction and a description of the indicators used, see our first post.
| | | | |
| --- | --- | --- | --- |
| Indicator | Status | Underlying Data | Notes |
| ISM Manufacturing PMI® | | | Indicators were mixed, all remaining close to neutral. |
| Mid-American Index | | | Prices continued sharp increases along with strong growth in new orders in production. Lead time and employment dropped, and confidence was extremely low. |
| Iowa Index | | | Iowa manufacturing showed a slight contraction this month, driven by significant drops in the employment index. New orders and production showed a strong recovery from a dip last month. |
| Iowa New Unemployment Claims | | | Initial unemployment claims increased but remain near historic lows, 30% lower than in October 2019. |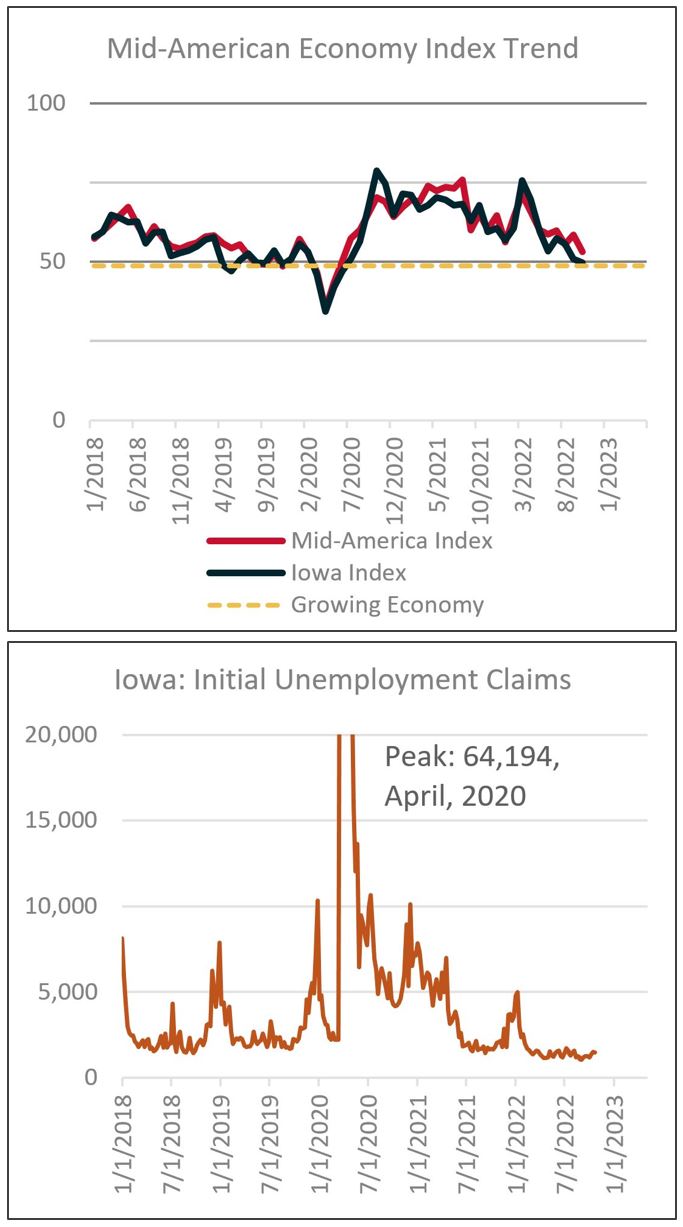 CIRAS Assessment
Employment data in manufacturing is showing potentially inconsistent data. Weekly new unemployment claims have remained very low, indicating minimal layoffs. However, the Iowa component of the mid-American index indicated a substantial amount of manufacturers reporting lower employment than the previous month.
This month provided mixed signals on Iowa's industrial economy. Manufacturing remains neutral to growing nationally. Locally, we continue to see interruptions flow through the supply chain, such as a drop in orders one month followed by a drop in production or employment the next. These have consistently recovered within 1-2 months.
This data indicates manufacturers have not been refilling positions due to normal turnover throughout October. What remains to be seen is whether this gap is intentional because of reduced workload, or due to troubles finding people.
Given the context of long-term workforce needs, we will continue to watch manufacturing employment closely to see how manufacturers balance demand uncertainty with persistent workforce shortages.
If you would like a brief monthly digest with updated indicators click here to subscribe. For more information, contact your local account manager or government contracting specialist.