Assistance from the CIRAS Procurement Technical Assistance Center (PTAC) helped an Oskaloosa-based manufacturer address inaccuracies in their invoicing information that were delaying payment for a government job.
Larry Lewis, owner of Lewis Repair and Manufacturing, contacted CIRAS after experiencing a delay in getting paid for an incinerator he delivered to a military base in Florida. Samantha Ferm, CIRAS government contracting specialist, determined that information in Lewis' System for Award Management (SAM) profile contained an outdated email address.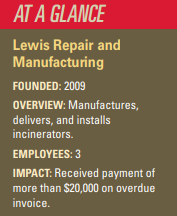 Ferm helped Lewis update his SAM information, unarchive his company's account, and access the system he needed to use to submit his invoice. Once the issues in this profile were addressed and a new invoice submitted, Lewis was promptly paid.
"The government has a certain way of doing things, and I understand that," he said. "But this was more than I could handle without help. Samantha really went the extra mile for me."
There were several factors that made it difficult for Lewis to detect the paperwork errors on his own. The work CIRAS did will make the invoicing process easier for Lewis in the future.
Ferm said her work with the company was also a learning experience for her.
"This project showed me that even individuals who work in contracting on military bases don't necessarily understand the process of doing business with the federal government from the client's perspective, which makes it confusing for everyone involved, especially the client," she said. "I'm glad our team is here to support small businesses that would truly be stuck without some extra help."
For more information, contact Samantha Ferm at siferm@iastate.edu or 319-333-9558.