Here is CIRAS's quick look at major economic indicators, our assessment of Iowa's industrial economy, and recommendations for you as a business leader.
For an introduction and a description of the indicators used, see our first post.
| | | | |
| --- | --- | --- | --- |
| Indicator | Status | Underlying Data | Notes |
| ISM Manufacturing PMI® | | | Strong data with indications of price easing and availability improvements. |
| Mid-American Index | | | Purchasing managers confidence remains low, despite strong performance. |
| Iowa Index | | | Employment remains just under 50. This lags a dip in the production index, which has rapidly recovered to 56.1 this month. |
| Iowa New Unemployment Claims | | | The ten lowest weekly initial unemployment claims of the past 22 years have occurred from April through August. |
CIRAS Assessment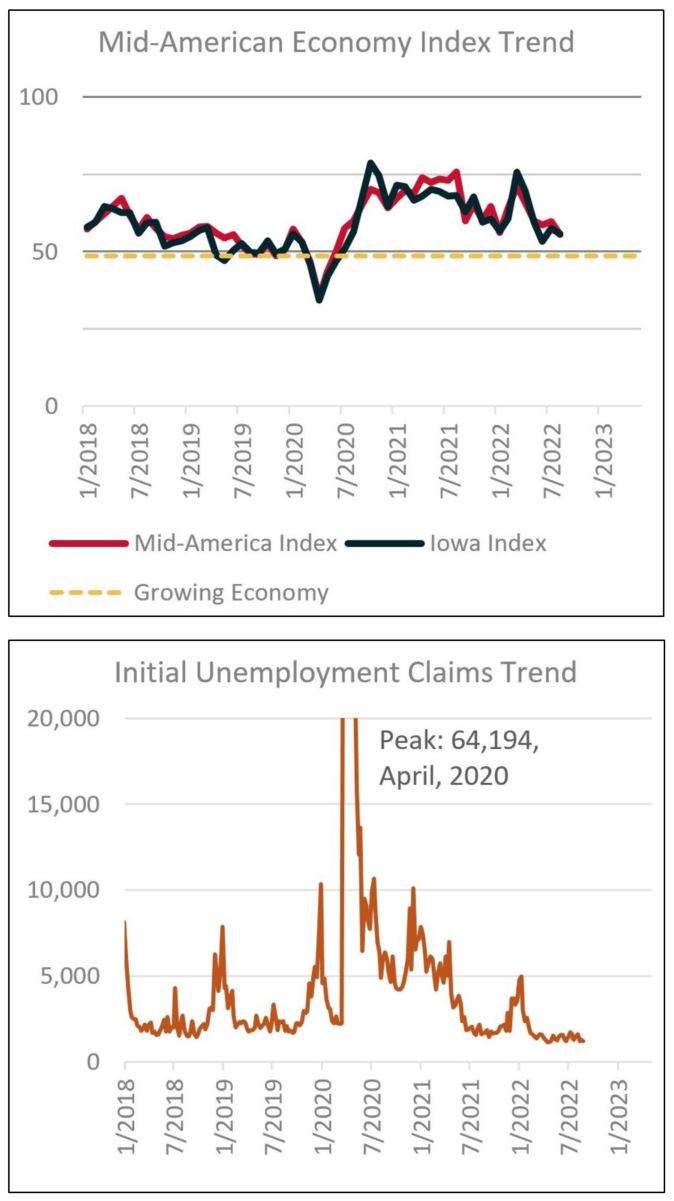 Current data regarding industry performance across the U.S. remains fundamentally strong. Supply chain consistency, material prices, and labor cost and availability remain major challenges for manufacturers across all industries.
Respondents to the above surveys and CIRAS clients commonly mention the struggle to find balance between supplier capacity, internal inventory, and customer demand due to uncertainties in all three spaces.
Executives should drive conversations that include supply, production, and sales leadership. Consider asking three questions of each:
What is your expected performance this month?
What is the "best case" scenario, and what would cause that to happen?
What is the "worst case" scenario, and what would cause that to happen?
Having this discussion as a team will help you better assess risks and possibilities, improving your resilience across the supply chain.
If you would like a brief monthly digest with updated indicators click here to subscribe. For more information, contact your local account manager or government contracting specialist.