A family-owned welding business founded 39 years ago in southwest Iowa used its ongoing relationship with CIRAS to further its understanding of the government bid process. As a result, they've recently been awarded two contracts from the USDA Forest Service totaling more than $256,000. 
Gregory Welding, located in Sidney, had previously completed their System for Award Management (SAM) registration, which is required to bid on government contracts. Jenna Gregory, secretary at the company, found an opportunity online that she thought would be a good fit. She reached out to Justin Niceswanger, a government contracting specialist with the CIRAS Procurement Technical Assistance Center (PTAC), who helped her respond to the request for quote (RFQ).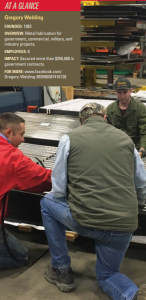 "The first thing we talked about was how they could use some of the language from their SAM registration in the proposal, specifically language from the representations and certifications sections," Niceswanger said. "And then we assessed the rest of the RFQ to make sure they understood what was being asked of them. The documents can be ambiguous, and CIRAS is able to provide some clarification."
Gregory Welding was founded in 1983 by Greg Gregory, who was joined by sons Jared in 2017 and Jason in 2020. The primary focus of the business is metal fabrication for government, commercial, military, and industry projects. The recent awards were for the manufacture of greenhouse tables for a facility in Nebraska and metal fence posts for Oregon's Deschutes National Forest.
In addition to walking the Gregorys through the RFQ process, Niceswanger reviewed their bid documents to confirm they understood what they were agreeing to and that the bid packet was complete.
Gregory Welding continues to submit bids for new awards. "When we present a proposal, we do so with confidence because we know it has been properly and correctly done," said Jenna. "We even received a compliment on a proposal we submitted. We didn't win the award, but we were told our submission was very professional and well put together."
One tool used by Gregory Welding is the no-cost bid match services made available by CIRAS to clients, which alerts businesses to opportunities related to their products or services.
"This service allows us to match bid opportunities with a client's capabilities and saves time for businesses so they don't have to manually search dozens of websites on their own," Niceswanger said.
For more information, contact Justin Niceswanger at jnice@iastate.edu or 515-509-9565.