A Marion assembler of wire harnesses and control boards started looking at new ways to address its labor shortage after its CEO attended a CIRAS presentation on workforce challenges.  
Tom Pientok, CEO of Timberline Manufacturing Company, was present at one of the first workforce talks given by CIRAS director Ron Cox. He later arranged for Cox to deliver the same message to Timberline's leadership team and Board of Directors. And that, he said, has led his company to take a more creative approach to solving its labor shortage. 
"Ron challenged us to think differently about sources of labor," Pientok said. "As he pointed out, Iowa's labor pool hasn't grown much in 50 years and it doesn't look like it will grow much any time soon. The only way we're going to increase our workforce is to become more open minded to alternative ways of hiring people and alternative pools of prospective employees." 
Cox has given the workforce presentation more than 100 times to nearly 3,000 attendees. He is currently transitioning from public talks to one-on-one company work like he did with Timberline. 
CIRAS's approach to help businesses solve labor needs is to provide data on nearly 30 different types of potential employees, including the size of the pool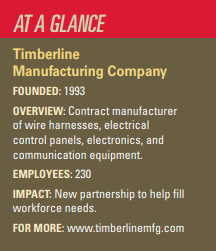 based on local conditions. This then enables company leadership to strategically focus limited resources where they feel they can have the most impact. 
"We're hearing over and over that old methods of recruiting employees are not working well," Cox said. "All of the easy hires have been made; now you really have to focus." Shortly after the CIRAS presentation, Pientok participated in a panel discussion on business leadership. The event was offered online and one of many listeners was Dan Clark, director of Iowa Prison Industries (IPI), a division of the Iowa Department of Corrections that provides training to incarcerated men and women.  
"I got a call from Dan about the principles I'd discussed and somehow that led to a conversation about the challenges of finding labor and what we're trying to do differently," Pientok said. 
Clark suggested Timberline consider utilizing inmates housed at the Iowa Correctional Institution at Mitchellville.  
IPI prepares incarcerated men and women for their return home by providing them with work training opportunities. The program, known as Prison Industries Enhancement (PIE), allows inmates to work for private employers who have been unable to hire enough qualified civilians. PIE gives companies such as Timberline an opportunity to address its production needs and to know and evaluate potential employees. IPI associates get an opportunity to learn new skills
 and connect with a potential employer before they return home. 
"The PIE program promotes Iowa's economic development by providing companies with a reliable and motivated workforce," Clark said. "Men and women working in the PIE program gain valuable work experience and are better equipped to obtain employment after release. The program helps them become taxpaying citizens once again." 
Pientok said Clark's call couldn't have come at a more opportune time.    
"A year before and I would've said, 'Thanks for thinking of us but we're not interested,'" he added. 
The conversation between Pientok and Clark led to an onsite visit to the Mitchellville facility. The state runs a factory there so inmates can learn vocational skills while pursuing work opportunities. Aaron Geissler, Timberline's director of manufacturing, and Cory Loes, director of supply chain and logistics, were impressed by what they saw on the tour. 
"They're not just learning how to assemble something," he said. "They're learning core fundamentals of manufacturing like scheduling and keeping their metrics. It's really quite impressive." 
Clark explained that IPI utilizes a continuous improvement program based on the Toyota Production System, which emphasizes providing the tools for people to continually improve their work. It's not just about doing the work . . . it's also about understanding the work that needs to be done.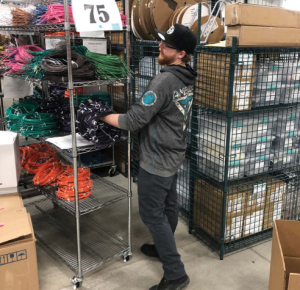 IPI dedicated a corner of the factory to Timberline work. Twelve inmates have been hired to wire and test harnesses that can be used in a variety of vehicles and machinery. Timberline packages kits and instructions, which are sent to workers who have received training in how to assemble the materials and how to meet the quality expectations of the company. Timberline has also designated one of their employees as a point of contact to ensure a good communication flow. 
Pientok plans to more than double the number of IPI associates working for Timberline this spring.  
"It's working well for us. IPI is helping fill a gap. In turn, Timberline is helping prepare these inmates for life after incarceration," he said. "We look forward to growing the opportunity." 
To schedule a workforce strategy session with company leadership, contact Brenda Martin at bkmartin@iastate.edu or 515-570-5282.