A record-breaking 120 companies and organizations were represented at the 10th annual CIRAS Iowa Lean Consortium (ILC) conference October 26 and 27. More than 320 people participated in the event either in person or online. The conference featured two keynote speakers and more than a dozen breakout sessions.

"We were very pleased by the response to the conference," said Tracy Schuster, ILC program director. "One thing we kept hearing was how ready people were to be together again. And for those who wanted an in-person experience but couldn't travel to the conference center in Altoona, we offered a satellite location and online option so they could gather a bit closer to home."
The goal of the conference was to reconnect attendees with each other and with resources to help build cultures of continuous improvement.
"We believe that when people thrive organizations thrive, and when organizations thrive so do the communities we all live in," said Schuster in her opening comments.
Kicking off the 2021 event was keynote speaker John Foley, a former Blue Angels pilot who now helps companies and organizations achieve higher levels of performance using parallels between aerobatics training and workday performance. He discussed the importance of excellence, teamwork, trust, precision, and focus in building a culture of excellence.
"Here are the three things an elite team needs: connection, alignment, and commitment to execution," he said. "When these things come together, you get an incredible breakthrough performance."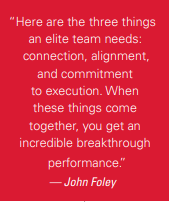 Foley also discussed closing the gap in the "high-performance zone" between where you are as a company and where you want to go.
"That's what Lean is all about," he said.
The second keynote speaker was best-selling author Neil Pasricha, who discussed resiliency and happiness in times of change.
Pasricha debunked an old formula that claims that great work and great success lead to happiness.
"It's the opposite…we need to train our brains to be happy," he said. "Then we'll do good work and be successful."
As part of the training process, Pasricha advocates beginning each morning by recording things you will let go of, things you are grateful for, and things you will focus on. His second piece of advice is to have a weird hobby, which research shows promotes creativity, and finally he advises going "untouchable for an hour before bedtime." In other words, shutting off cellphones and other electronic devices.
Breakout presentation recordings are available in the ILC Members Only Area. Not a member? Join today and plan to attend the 2022 Annual Conference October 25 and 26.