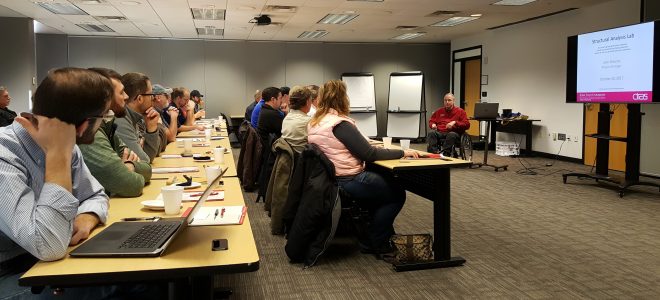 Chris Hill, director of CIRAS' Technology Assistance Program (TAP), said two of those companies have since contacted CIRAS seeking help to get products, parts, or materials tested and evaluated.
"Once people understand what we can do, many of them decide to take advantage of what we provide," Hill said.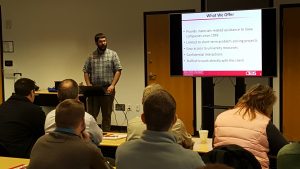 Ideas for CIRAS' new Technology Showcase sprang from several years of regular tours that CIRAS has been arranging for the technical experts at manufacturing companies around the state. Company leaders since 2016 have been able to sign up in advance for quarterly tours of a campus Materials Lab, a Structures Lab, and the Iowa State Center for Nondestructive Evaluation. (A parallel tour schedule exists for companies interested in viewing the university's polymer and additive manufacturing labs.)
Hill describes the Technology Showcases as an effort to spread the word to manufacturers who may not be able to spend the day in Ames satisfying their curiosity.
"It's a lab tour on wheels," Hill said. "We come to you, so you don't have to come to us."
The next one is coming soon. Another Technology Showcase is now being planned for Burlington in mid-March.
For more information, email chhill@iastate.edu.