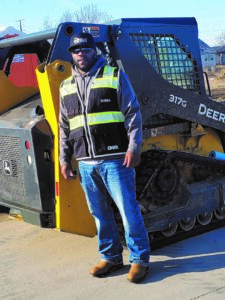 Kirkland "Bubba" Davidson credits DBE certification with helping him better compete for subcontracting work. Kirkland "Bubba" Davidson, owner of the Des Moines-based Dirty 30 Trucking & Excavating, built his company from the ground up, relying mostly on his own skills and research. He was successful in securing independent contracts as well as subcontracting jobs, both of which enabled him to grow his company to its current workforce of nine employees.
But taking his business to the next level meant becoming certified as a Disadvantaged Business Enterprise (DBE). The DBE initiative supports women-and minority-owned businesses as they compete for federally funded transportation contracts. Mary Zimmerman, CIRAS DBE Support Services Manager, identified where Davidson needed assistance, and utilized the resources at CIRAS to get him the assistance he needed to leverage the certification.
"I directed Bubba to a workshop on how to submit a quote to a prime contractor," Zimmerman said. "The event was designed to be interactive to help participants build relationships but also learn what they needed to know about competing for these projects. A panel of contractors discussed the bid process from their perspective and area of expertise and then fielded questions from the other participants. Bubba indicated to me later that this was instrumental in his success on some of the projects he later acquired."
Dirty 30 is a family-owned, full-service company that provides solutions for earthmoving projects like general excavation, land clearing, trenching, site grading, and concrete, dirt, and snow removal. In addition to the workshop, Davidson has turned to Zimmerman for information on additional educational opportunities and training that would expand his bidding capabilities.
"CIRAS provides great insight on various information related to government procurement," Davidson said. "I look forward to working with them again in the future."
For more information, contact Mary Zimmerman at maryz@iastate.edu or 515-450-1278.